A Year of Snarky Cats 2021 Wall Calendar (Calendar)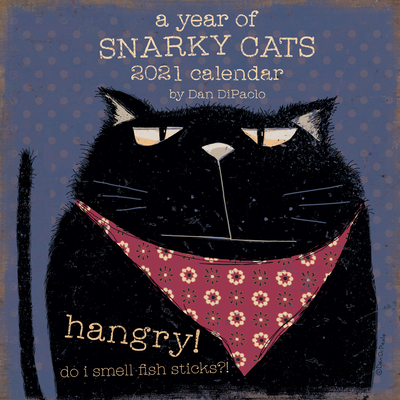 Description
---
Behind the cool, placid eyes of any feline, there dwells a multitude of thought, mostly having to do with its general superiority to humans. A Year of Snarky Cats 2021 Wall Calendar by Dan DiPaolo perfectly captures the machinations and musings of these mysterious creatures through hip, colorful art that reveals such thoughts as "I don't shed…I emit fibers of love and joy."

It also includes a handy September-December 2020 spread and clean and roomy 2021 monthly grids, ideal for noting vet appointments and reminders to buy tuna for his or her majesty.
About the Author
---
Dan DiPaolo lives in rural Wisconsin where he juggles farming, mostly cattle and chicken, with studio time. The farm is constantly changing and growing . . . just like the artwork he creates. For Dan, they are intertwined and evolve together. He believes working hard, learning, and living each day to its fullest potential is essential to both. Inspiration for his calendars comes from every acre of the land.