Need to Know: A Novel (Hardcover)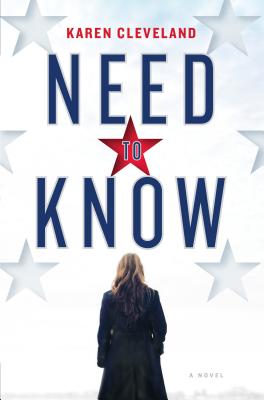 February 2018 Indie Next List
---
"Vivian Miller is a CIA analyst working on Russian sleeper cells. She is good at her job, and dedicated. But what she discovers will blow apart everything she thought she knew about her life. What do you do when the choice is country or family? How do you protect your children - and Vivian cares deeply about her children - while walking a tightrope between two superpowers? What do you do when the betrayer is closer than you could have ever imagined? There are twists and turns aplenty as Vivian steps into a dangerous game that could destroy everything she loves and values. Karen Cleveland keeps the tension going right to the very last page."
— Deon Stonehouse (P), Sunriver Books, Sunriver, OR
Winter 2018 Reading Group Indie Next List
---
"In the mood for a page-turner, I picked up Karen Cleveland's debut novel, Need to Know, and found myself completely engrossed by the end of the first chapter. Vivian is a relatable working mom juggling family responsibilities, a loving marriage, and her career, except her career involves investigating sleeper cells as a counterintelligence analyst at the CIA. She adores her husband and children and is completely unprepared for the shocking discovery she makes just before leaving work early one day to pick up her sick child from daycare. Cleveland knows of what she writes: she was a CIA analyst who wrote briefs for the president and worked closely with the FBI on a Joint Terrorism Task Force. I'm looking forward to reading more of her books in the future!"
— Lisa Johnson, Penguin Bookshop, Sewickley, PA
Description
---
NEW YORK TIMES BESTSELLER • Perfect husband. Perfect father. Perfect liar?

"Terrific."—John Grisham
"Superb."—Lee Child
"Breathtaking, heart-pounding."—Louise Penny
"A fast-paced, relentlessly gripping read."—Chris Pavone

Vivian Miller. High-powered CIA analyst, happily married to a man she adores, mother of four beautiful children. Until the moment she makes a shocking discovery that makes her question everything she believes.
 
She thought she knew her husband inside and out. But now she wonders if it was all a lie. How far will she go to learn the truth?  And does she really . . . 
 
. . . NEED TO KNOW?

Film rights sold to Universal Pictures for Charlize Theron • Rights sold in more than 20 markets

"Shaping up to be one of the year's biggest new thrillers."—Entertainment Weekly
 
"So timely . . . Think of the perfect mix of Homeland and The Americans. . . . Need to Know needs to be read by all who relish spy novels. As entertaining as it is informative and as irresistible as it is impossible to put down."—Providence Journal
 
"Pulse-pounding."—O: The Oprah Magazine
 
"Accomplished . . . a nonstop thriller tapping into a hot mix of contemporary digital counterintelligence, old-school spying and ageless family drama."—Shelf Awareness

"An early contender for next year's Gone Girl."—GQ (UK)
  
"The Russia page-turner that should be on everyone's list."—New York Post
About the Author
---
Karen Cleveland is a former CIA analyst. She has master's degrees from Trinity College Dublin (international peace studies) and Harvard University (public policy). Cleveland lives in northern Virginia with her husband and two young sons. This is her first novel.
Praise For…
---
"Shaping up to be one of the year's biggest new thrillers."—Entertainment Weekly
 
"So timely . . . Think of the perfect mix of Homeland and The Americans. . . . Need to Know needs to be read by all who relish spy novels. As entertaining as it is informative and as irresistible as it is impossible to put down."—Providence Journal
 
"Pulse-pounding."—O: The Oprah Magazine
 
"Accomplished . . . a nonstop thriller tapping into a hot mix of contemporary digital counterintelligence, old-school spying and ageless family drama."—Shelf Awareness

"An early contender for next year's Gone Girl."—GQ (UK)
 
"The Russia page-turner that should be on everyone's list."—New York Post

"Perhaps there will be two or three readers out there who manage to finish the first chapter of this terrific debut and put it down for more than an hour. But they'll be back. And they'll devour it like the rest of us, skipping lunch, losing sleep, turning pages until the end, where we're all left waiting for more."—John Grisham

"Prediction: If you read chapter one, you'll read chapter two. If you read chapter two, you'll miss dinner, stay up far too late, and feel tired at work tomorrow. This is that kind of book. Superb."—Lee Child

"Karen Cleveland is the real deal—an exciting new voice in thrillers. Scarpetta would call her friend."—Patricia Cornwell

"I am consumed with awe that this a debut novel. Breathtaking, heart-pounding, it manages to be at once intimate and sweeping, characterful and plot driven. Need to Know is a really astonishing achievement for any writer, let alone a first-time novelist. I love it!"—Louise Penny, #1 New York Times bestselling author

"I raced through this gripping tale of domesticity and deceit. Karen Cleveland deliciously ratchets up the tension at every turn. You won't be able to put it down until the final, stunning page!"—Shari Lapena, New York Times bestselling author of The Couple Next Door

"Need to Know carves out a uniquely compelling space among thrillers: high-stakes international intrigue combined with high-drama domestic suspense. These richly overlapping layers of tension create a fast-paced, relentlessly gripping read."—Chris Pavone, New York Times bestselling author of The Expats

"Heart-poundingly suspenseful and heart-wrenchingly insightful, Need to Know hums with authentic detail, crisp storytelling, and characters that will long stay in your thoughts—a gripping thriller with real psychological depth."—JP Delaney, New York Times bestselling author of The Girl Before
Congratulations!
Our very own Marie Benedict is #7 on the New York Times Bestsellers List with her enchanting new novel,
The Only Woman in the Room.
Join us in congratulating Ms. Benedict and stop in for a signed copy of her novel!