Eat This, Not That (Revised): The Best (& Worst) Foods in America! (Paperback)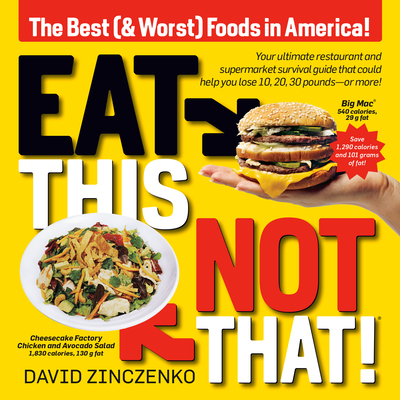 Description
---
Indulge smarter with the no-diet weight loss solution. The bestselling phenomenon that shows you how to eat healthier with simple food swaps—whether you're dining in or out—is now expanded and completely updated.

Did you know that if you're watching your waistline, a McDonald's Big Mac is better than a Five Guys Cheeseburger? Or that the health promise of the Cheesecake Factory's Grilled Chicken and Avocado Club is dubious? Or that when shopping for condiments, the real winner is Kraft mayo with olive oil instead of Hellman's "Real?"

Reading ingredient labels and scrutinizing descriptions on menus is hard work, but with side-by-side calorie and nutrition comparisons and full-color photos on every page, Eat This, Not That! makes it easy! Diet guru Dave Zinczenko goes aisle-by-aisle through every major American staple—from frozen foods, cereals, and sodas, to the dairy cases, international foods, and the produce aisle—as well as every chain and fast food restaurant in the country to pick the winners and losers. You'll find more than 1,250 slimming and often surprising swaps, a helpful list of the "worst foods in America" by category, plus testimonials from real people who lost weight simply by consulting Zinczenko's easy-to-follow advice.

Now the book that changed the way Americans choose meal ingredients, food brands, and menu options is completely updated—and it'll help satisfy both the appetite and diet goals of even the hungriest reader!
About the Author
---
David Zinczenko is the New York Times bestselling author of SuperMetabolism Diet, Zero Belly Diet, Zero Belly Cookbook, Zero Belly Smoothies, and Zero Belly Breakfasts, the co-author of the Eat This, Not That! franchise (which has sold more than eight million copies worldwide), and the Abs Diet book series. He is a Health and Wellness Contributor at NBC News and has appeared on Today, Good Morning America, The Oprah Winfrey Show, Rachael Ray, and is the award-winning former editor in chief of Men's Health and editorial director of Women's Health, Prevention, and Best Life magazines. Zinczenko is also the founder and chief executive of Galvanized Media, where he oversees a number of life-changing wellness brands. He lives in New York City.