Mud and Stars: Travels in Russia with Pushkin, Tolstoy, and Other Geniuses of the Golden Age (Hardcover)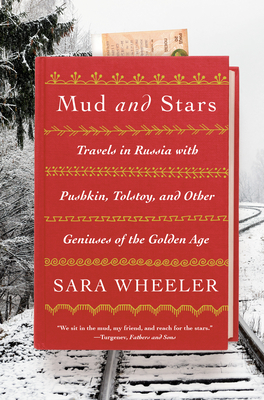 $27.95
Email or call for price.
Description
---
ONE OF SMITHSONIAN'S BEST TRAVEL BOOKS OF THE YEAR

With the writers of the Golden Age as her guides—Pushkin, Tolstoy, Gogol, and Turgenev, among others—Sara Wheeler searches for a Russia not in the news, traveling from rinsed northwestern beet fields and the Far Eastern Arctic tundra to the cauldron of nation­alities, religions, and languages in the Caucasus. Bypassing major cities as much as possible, she goes instead to the places associated with the country's literary masters. With her, we see the fabled Trigorskoye ("three hills") estate that Pushkin frequented during his exile, now preserved in his honor. We look for Dostoevsky along the waters of Lake Ilmen, site of the only house the restless writer ever owned. We pay tribute to the single stone that remains of Tol­stoy's birthplace. Wheeler weaves these writers' lives and works around their historical homes, giving us rich portraits of the many diverse Russias from which these writers spoke.
 
As she travels, Wheeler follows local guides, boards with families in modest homestays, eats roe and pelmeni and cabbage soup, invokes recipes from Mastering the Art of Soviet Cooking, learns the language, and observes the pattern of outcry and silence that characterizes life under Vladimir Putin. Illustrated with both historical images and contemporary snapshots of the peo­ple and places that shaped her journey, Mud and Stars gives us timely, witty, and deeply personal insights into Russia, then and now.
About the Author
---
SARA WHEELER is the author of many works of nonfiction, including Terra Incognita: Travels in Antarctica, The Magnetic North (winner of the Banff Adventure Travel Prize), and Trav­els in a Thin Country. She contributes to a wide range of publications, including The New York Times, The Wall Street Journal, Vanity Fair, and The Daily Telegraph, and broadcasts regularly on BBC Radio. She lives in London.
Praise For…
---
"A personal glimpse into a populace whose lives are often overshadowed by the politics of the day." 
—Jennifer Nalewicki, Smithsonian, "The Ten Best Books About Travel of 2019"

"Sara Wheeler's travel books are insightful accounts of intrepid journeys . . . There are wry observations, astute close-readings, scathing critiques of Putin's misrule, and numerous impressions on Russian quirks and foibles. Gilding the whole proceedings is Wheeler's lyrical prose . . . We come away from this enthralling book wiser and happier—and with a pang or two of wanderlust."
—Malcolm Forbes, Minneapolis Star Tribune

"Sara Wheeler is a canny, first-class travel writer . . . [who] time travels back and forth from present to past . . . She can take in and do seemingly anything and have it all stick together . . . Funny and inspired . . . Illuminating . . . Wheeler is wonderful company. I hope Mud and Stars inspires hardy souls to visit these literary sites."
—Bob Blaisdell, Los Angeles Review of Books
 
"One of the finest travel writers and biographers around . . . Wheeler carves a unique portrait of Russia, one informed by a genuine affection for the food, culture, and landscape. A journey through time, space, and personal, culinary, and literary history, Wheeler's latest is a joyous demonstration of how brilliantly immersive travel writing can be at its very best."
—Alexander Moran, Booklist (starred review) – A Booklist Best Book of the Week
 
"Sara Wheeler's delightful book Mud and Stars: Travels in Russia with Pushkin, Tolstoy, and Other Geniuses of the Golden Age reminds us that the giants of the Russian 19th century were indeed contemporaries, commenting on one another's work as it came out, supporting and rivaling each other . . . Besides making your stomach growl with descriptions of rich food, Wheeler also causes eyebrows to rise with her stylistic flourishes."
—Randy Rosenthal, Los Angeles Review of Books

"A literary romp . . . A well-researched, droll journey around the lives of Russia's 'big beast'nineteenth-century writers in the context of today's Russia and ordinary residents of the country . . . Wheeler deftly brings the landscapes around her up to date."
—Malika Browne, The Times (London)
 
"Part literary criticism, part travelogue, Wheeler's fascinating book ventures across the country in the footsteps of 'golden age' writers such as Pushkin, Tolstoy, and Turgenev . . . She is as enthusiastic and authoritative a guide as one could wish for."
—Alexander Larman, The Observer (London)
 
"Well informed and independent minded . . . An intelligent inquiry into the human condition itself . . . Wheeler is also side-splittingly funny in her breaking of taboos."
—Vanora Bennett, The Times Literary Supplement (London) 
 
"Wheeler captures the unique combination of tragedy and humor that marks Russian literature. In exile or prison, in slapstick or a duel, she brings writers like Gogol, Chekov, and Pushkin to vivid, pulsating life."
—Martin Cruz Smith, author of the best-selling Arkady Renko detective series
 
"Vivid . . . Entertaining . . . Provoking and informative."
 —Publishers Weekly