The Absolute Beginner's Guide to Cross-Examination (Hardcover)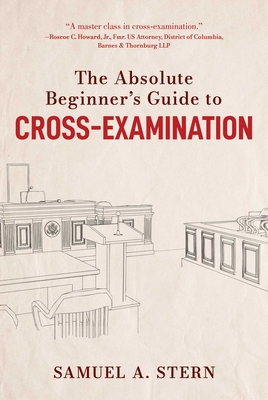 $40.00

Usually Ships in 1-5 Days
Description
---
Written by an experienced trial lawyer, this book will help you understand the art of cross-examination. Not only will it prepare you for the courtroom, but it will also help you become a successful lawyer.

One of the most well-known courtroom situations, the cross-examination is the formal interrogation of a witness called by the other party in a court of law to challenge or extend testimony already given. It is the prosecutor or defense attorney's opportunity to strengthen his or her own case by questioning the opposite side's witness. To do so with expertise, calm, and finesse is a hard-learned but invaluable skill.

In The Absolute Beginners Guide to Cross-Examination, trial lawyer and teacher Samuel A. Stern demonstrates that conducting an effective cross-examination is a learned skill and that his comprehensive teachings are its foundation. This contemporary and clear guide is designed so that you can quickly and effectively cross-examine.

Learn how to successfully cross-examine a witness in this easy-to-read, step-by-step guide. This book will be a integral addition to the shelf of every law student, lawyers who have newly passed the bar exam, law professors, and even seasoned practicing lawyers. Cross-examination is an art, and Stern teaches you the finest aspects of it in The Absolute Beginners Guide to Cross-Examination.
About the Author
---
Samuel A. Stern is an experienced trial lawyer specializing in civil and criminal litigation.  Prior to founding Stern LLC, he began his career as an assistant prosecutor in Hudson County, New Jersey and then as an assistant United States attorney for the District of New Jersey. Stern is also an accomplished teacher of cross-examination techniques and serves as a member of the faculty at the University of Miami School of Law and at the University of Virginia School of Law Trial Advocacy College.