Just Peachy: Comics About Depression, Anxiety, Love, and Finding the Humor in Being Sad (Hardcover)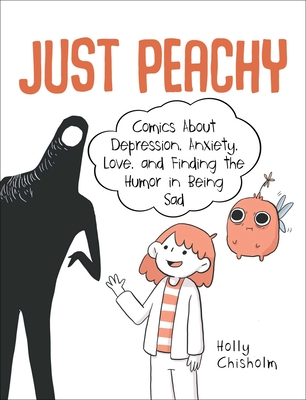 $14.99
Email or call for price.
Description
---
"In this autobiographical collection of thoughtful and poignant comic vignettes, Chisholm explores her experiences with depression, anxiety, and love ." —Booklist

Just Peachy is a comic series that explores what the day-to-day is like with depression and/or anxiety. The all-too-real cartoon protagonist gives readers a character to empathize with, and helps explain some of the not often talked about consequences and symptoms of having depression. The comics also explore the themes of heartbreak, finding love, dealing with stress, and capturing the magical moments in life that keep us going.

Through dark humor and cute illustrations, the subject matter becomes a bit more bearable, allowing for honest discussion about things like treatment and getting through anxiety attacks, and providing some comfort in times of struggle.

For anyone affected by mental illness, Just Peachy shows that you are not alone. Simply put, this is an encouraging collection of comics about being just okay sometimes.

"So brave of Holly Chisholm to share her struggles with mental health issues through this creative medium. Just Peachy will inspire others to connect to, navigate through, and recover from their own day-to-day trials and tribulations of living with a mental illness. Well done!" —Dr. Carlin Barnes and Dr. Marketa Wills, authors of Understanding Mental Illness and founders of Healthy Mind MDs
About the Author
---
Holly was diagnosed with depression and ADHD in December of 2016. Her therapist suggested she try journaling. She hates journaling. This comic was her compromise between drawing and journaling; it helped her record how she was feeling and work through some of the darkness. Holly currently live in Mesa, Arizona, with her boyfriend Matt and an ornery cockatiel named Larry.
Praise For…
---
"Chisholm's graphic memoir about her battle to overcome panic and gloom is told with an almost adorably cute sadness . . . This is a sweet-natured, guardedly optimistic handbook for working through the bad times with an occasional well-earned laugh." —Publishers Weekly

"Just Peachy offers a delightful commiseration on the human condition. It is cheerfully conspiratorial for those who share the author's plight. It laughs in the face of existential dread. A scrumptious treat made by a confectioner of emotional distress.​" —Emily Niland & Coree Spencer, authors of I'm Not Okay, You're Not Okay

"So brave of Holly Chisholm to share her struggles with mental health issues through this creative medium. Just Peachy will inspire others to connect to, navigate through, and recover from their own day-to-day trials and tribulations of living with a mental illness. Well done!" —Dr. Carlin Barnes and Dr. Marketa Wills, authors of Understanding Mental Illness and founders of Healthy Mind MDs

"A compilation of comics filled with cute drawings and funny expressions. Just Peachy offers an honest and courageous view into vulnerable topics that are sure to resonate with readers." —Dante Fabiero, author of Slothilda: Living the Sloth Life

"In this autobiographical collection of thoughtful and poignant comic vignettes, Chisholm explores her experiences with depression, anxiety, and love . . . This graphic novel will provide comfort and information to both those who are dealing with similar issues or those who know someone who is." —Booklist