The Girl Who Wrote in Silk (Paperback)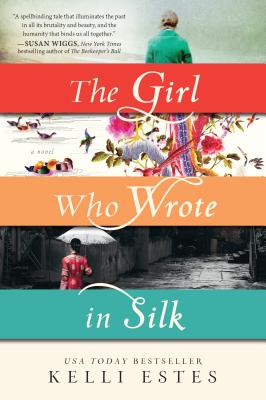 July 2015 Indie Next List
---
"In 1886, a young Chinese woman is forced out of the only home she has ever known in Seattle. Liu Mei Lin must overcome prejudices and terror while struggling to keep the traditional beliefs that are close to her heart. On contemporary Orcas Island, Inara deals with an overbearing father who will throw up every roadblock he can to get her to do what he wants. As Inara prepares to turn a family home into a hotel, she finds an embroidered silk sleeve hidden below a stair step. Wanting to learn more about the sleeve and the figures depicted on it, she begins a search to find out more about the woman who made it. This story is compelling, heart-wrenching, and an absolutely beautiful read."
— Debbie Buck, Vintage Books, Vancouver, WA
Description
---
A USA Today Bestseller
"The Girl Who Wrote in Silk is a beautiful story that brought me to tears more than once, and was a testament to the endurance of the human spirit and the human heart. A powerful debut that proves the threads that interweave our lives can withstand time and any tide, and bind our hearts forever."-Susanna Kearsley, New York Times bestselling author
Inspired by true events, Kelli Estes's brilliant and atmospheric novel serves as a poignant tale of two women determined to do the right thing, and the power of our own stories.
The smallest items can hold centuries of secrets...
Inara Erickson is exploring her deceased aunt's island estate when she finds an elaborately stitched piece of fabric hidden in the house. As she peels back layer upon layer of the secrets it holds, Inara's life becomes interwoven with that of Mei Lein, a young Chinese girl mysteriously driven from her home a century before. Through the stories Mei Lein tells in silk, Inara uncovers a tragic truth that will shake her family to its core -- and force her to make an impossible choice.
"A touching and tender story about discovering the past to bring peace to the present."-- Duncan Jepson, author of All the Flowers in Shanghai
Congratulations!
Our very own Marie Benedict is #7 on the New York Times Bestsellers List with her enchanting new novel,
The Only Woman in the Room.
Join us in congratulating Ms. Benedict and stop in for a signed copy of her novel!