The Last Leaves Falling (Paperback)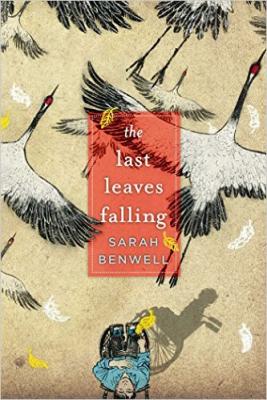 Description
---
A teen grapples with ALS and his decision to die in this "deeply moving" (Booklist, starred review) debut novel infused with the haunting grace of Japanese poetry and the noble importance of friendship.

Sora is going to die, and he's only seventeen years old. Diagnosed with ALS (Lou Gehrig's disease), he's already lost the use of his legs, which means he can no longer attend school. Seeking a sense of normality, Sora visits teen chat rooms online and finally finds what he's been longing for: friendship without pity.

As much as he loves his new friends, he can't ignore what's ahead. He's beginning to lose the function of his hands, and soon he'll become even more of a burden to his mother. Inspired by the death poems of the legendary Japanese warriors known as samurai, Sora makes the decision to leave life on his own terms. And he needs his friends to help him.
About the Author
---
Sarah Benwell lives in the picturesque English city of Bath, where she studied for an MA in Writing For Young People. Now she writes, runs creative writing workshops for teens and adults, such as the Young Writers Squad at Trowbridge Library where she's also a writer in residence, and works retail at unsociable hours. Having seen a good chunk of the world, Sarah is a keen advocate for diversity in life and on bookshelves, and she loves nothing more than acquainting herself with both. As such, she co-runs DiversifYA.com: an online space that highlights diverse experience and promotes inclusion in YA fiction.
Praise For…
---
*"Benwell's deeply moving story is visceral...and psychologically acute in its portrayal of a dying teen and his loyal friends. Its shattering ending is sure to engender discussion among readers."

"Benwell's gentle treatment of friendship and death with dignity will touch fans of John Green's The Fault in Our Stars."

*"This is more a tale of friendship than of romance and one of living life to the fullest for as long as possible...this thought-provoking read offers teens a different perspective on living and loving life."

*"Benwell's story is remarkably unsentimental, and her setting—contemporary urban Japan—adds a unique appeal...[T]he haiku Sora reads, and writes, are a perfect symbol for his life: brief in length but full of strength and subtlety."

*"It's a memorable and haunting story of a boy's determination to seize control of the limited time he has left."

*"An exquisite debut YA novel that serves as a guide to living a meaningful life, and the importance of family, friendship and self-knowledge."