Why They Run the Way They Do: Stories (Hardcover)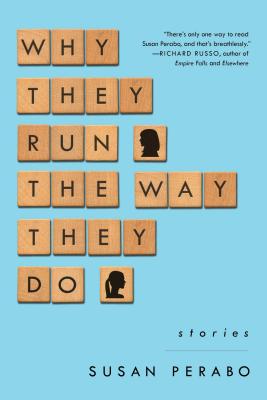 Description
---
"Darkly beautiful stories about love and loss and every gradation between. Each one is suffused with astonishing wit and tenderness. Well worth the wait!" —Jenny Offill, New York Times bestselling author of Department of Speculation

"Reminiscent of George Saunders…These ingenious and lovable stories crack open the world." —Kirkus Reviews (starred review)

From the celebrated author of Who I Was Supposed to Be comes twelve beautiful short stories celebrating the everyday truths of people facing unusual or challenging situations…often of their own making.

In Why They Run the Way They Do, critically acclaimed author Susan Perabo illustrates the triumphs and tragedies of daily life. Perfectly distilled into moments of sharp humor and poignancy, her latest collection features ordinary people in sometimes extraordinary circumstances. Two young students try their hand at blackmail upon learning an illicit secret; a woman grapples with feelings of betrayal after discovering her spinster sister's pregnancy test; the ghost of a couple's past comes back to haunt them in the form of their toddler's stuffed toy.

Weaving the banal and bizarre together, "Perabo's clear, wry sentences meld a prose style that's reminiscent of Raymond Carver's with a sensibility that's informed by People" (The New York Times). Here, this "literary talent" (The Boston Globe) captures the human condition through struggles that are quiet and grand; dark and provocative. Brilliantly crafted, Why They Run the Way They Do is ultimately an homage to the philosophy that life without humor is no life at all.
About the Author
---
Susan Perabo is the author of the collections of short stories, Who I Was Supposed to Be and Why They Run the Way They Do, and the novels The Broken Places and The Fall of Lisa Bellow. Her fiction has been anthologized in Best American Short Stories, Pushcart Prize Stories, and New Stories from the South, and has appeared in numerous magazines, including One Story, Glimmer Train, The Iowa Review, The Missouri Review, and The Sun. She is Writer in Residence and professor of English at Dickinson College in Carlisle, Pennsylvania, and on the faculty of the low-residency MFA Program at Queens University. She holds an MFA from the University of Arkansas, Fayetteville.
Praise For…
---
PRAISE FOR WHY THEY RUN THE WAY THEY DO

"Darkly beautiful stories about love and loss and every gradation between. Each one is suffused with astonishing wit and tenderness. Well worth the wait!"
—Jenny Offill, New York Times bestselling author of Dept. of Speculation

"There's only one way to read Susan Perabo, and that's breathlessly. Each story in Who I Was Supposed to Be crackles with narrative electricity, and every one made me want to stand and cheer."
—Richard Russo, author of Empire Falls and Elsewhere

"Reminiscent of George Saunders . . . These ingenious and lovable stories crack open the world."
—Kirkus Reviews, starred reivew

PRAISE FOR THE BROKEN PLACES

"The Broken Places explores the very human question?in surprising and original ways?of what it really means to be afraid."
—Elizabeth Strout, author of The Burgess Boys and Olive Kittredge

"Susan Perabo's powerful new novel perfectly captures the onset of an age when you know what you want and aren't afraid to ask, when you understand too much and learn just how little you can do about it, and when the prizes of rescue and fame can astonishingly reveal and further fracture the conflicted broken places of the heart. This is a daring and intensely authentic book."
—Fred Leebron, author of In the Middle of All This

"Perabo is off to a great start….The Broken Places is a successful exploration of a family's gradual unraveling and—perhaps more importantly—of the more basic question of what it means to be afraid. And it is when fear hovers at the edges that we find some of Perabo's most compelling writing."
—Jennie A. Camp, Denver Rocky Mountain News

"Having demonstrated in Who I Was Supposed to Be—her muscular debut collection of short stories—that she can write in voices male and female, young and old, Susan Perabo distributes her loyalties equally in The Broken Places….Perabo, whose stories radiate compassionate curiosity about how people get along, is particularly attuned to the inner lives of young people."
—Lisa Schwarzbaum, Entertainment Weekly

"Proving herself a writer to watch, Perabo delivers a panoramic emotional drama in this stunning first novel."
—Lee Ann Sandweiss, St. Louis Dispatch

"A beautifully constructed family drama that approaches the best in literature…the story and character are so compelling that even a restless reader will sit pinned to the armchair all afternoon."
—Diane Nelson Jones, Pittsburgh Post-Gazette

"The Broken Places is an insightful contemporary page-turning work told with compassion and quiet power."
—Myrna Lippman, Ft. Lauderdale Sun-Sentinel

"Clear, assured prose…[Perabo is] a writer who trusts her story and respects her characters….It seems perfectly fitting that a quotation from Hemingway should start Perabo's novel, a novel that simply but powerfully explores the nature of manhood, fathers and sons, courage, and woundedness."
—Mick Cochrane, The Buffalo News

PRAISE FOR WHO I WAS SUPPOSED TO BE

"Who I Was Supposed to Be is a stunning introduction to a fresh new literary talent."
—The Boston Globe

"[Perabo's] keenly observed, insightful stories leave us appalled and hopeful and wonderfully dazzled."
—Margaret Fichtner, The Miami Herald

"Such truth-telling as to be found in Who I Was Supposed to Be is like the sound of the quiet tearing of the innocent worlds we compose for ourselves. Although rich with wonders, this is not performance, but artful, genuine, and essentially caring. It is whispered in your ear and is the words you've told on yourself. It is the harbor of lost souls, the short story as an act of consummate humanity."
—Robert Olmstead, author of The Coldest Night and Coal Black Horse

"In an age whose stories are desperately ho-hum and as predictable as sunrise, along comes Susan Perabo to remind us of what it's like to snatch the lid off the box we are and behold—with pity and with fear—the wheels of our inner lives out of round and spitting sparks. Who I Was Supposed to Be is a masterful collection—new as a night on Neptune, choice as a weekend in heaven, memorable as gunfire in the backseat."
—Lee K. Abbott, author of All Things, All at Once

"The remarkable stories in Who I Was Supposed to Be are disturbing and compassionate, ruthlessly honest and ultimately life-affirming. And they are brave. The marvel of this work is that Susan Perabo, in her first outing, has staked claim on a wild new territory of desperation and heartbreak. I guarantee this is a world you haven't visited before. Pick up the book and strap yourself in your chair—it's going to be a wild ride."
—John Dufresne, author of No Regrets, Coyote

"Unfalteringly…her limber, multifaceted voice heartily sustains this debut collection suffused with vivid, sharp dialogue and solid, satisfying characters."
—Publishers Weekly, starred review

"The overall impression it leaves is of a quiet and penetrating truthfulness."
—Juliet Wittman, The Washington Post Book World

"Her mastery of the short-story form is so sure that she could someday be a worthy successor to Raymond Carver or John Cheever."
—Whitney Gould, The Milwaukee Journal

"Injects notes of sweetness and bits of humor into these bleak tales…taut and lean."
—Susi Linfield, Los Angeles Times

"Ruseful, funny, resonant, tender and rugged essence-of-America short stories…[Perabo is] a wise writer with a full heart."
—Lisa Schwarzbaum, The Baltimore Sun

"Perabo has a knack for picking out the ordinary desperados of society—not unlike Flannery O'Connor—and finding therein a special form of grace."
—Booklist

"Astringent, unsettling stories, and a memorable debut."
—Kirkus Reviews