Glory over Everything: Beyond The Kitchen House (Hardcover)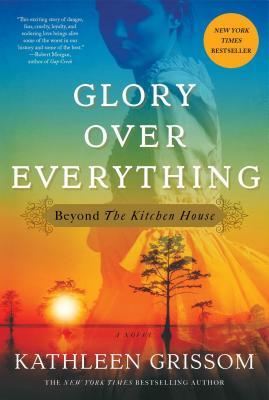 Description
---
From the author of the New York Times bestseller and beloved book club favorite The Kitchen House, a novel of family and long-buried secrets along the treacherous Underground Railroad.

Jamie Pyke, son of both a slave and master of Tall Oakes, has a deadly secret that compels him to take a treacherous journey through the Underground Railroad.

Published in 2010, The Kitchen House became a grassroots bestseller. Fans connected so deeply to the book's characters that the author, Kathleen Grissom, found herself being asked over and over "what happens next?" The wait is finally over.

This new, stand-alone novel opens in 1830, and Jamie, who fled from the Virginian plantation he once called home, is passing in Philadelphia society as a wealthy white silversmith. After many years of striving, Jamie has achieved acclaim and security, only to discover that his aristocratic lover Caroline is pregnant. Before he can reveal his real identity to her, he learns that his beloved servant Pan has been captured and sold into slavery in the South. Pan's father, to whom Jamie owes a great debt, pleads for Jamie's help, and Jamie agrees, knowing the journey will take him perilously close to Tall Oakes and the ruthless slave hunter who is still searching for him. Meanwhile, Caroline's father learns and exposes Jamie's secret, and Jamie loses his home, his business, and finally Caroline.

Heartbroken and with nothing to lose, Jamie embarks on a trip to a North Carolina plantation where Pan is being held with a former Tall Oakes slave named Sukey, who is intent on getting Pan to the Underground Railroad. Soon the three of them are running through the Great Dismal Swamp, the notoriously deadly hiding place for escaped slaves. Though they have help from those in the Underground Railroad, not all of them will make it out alive.
About the Author
---
Born and raised in Saskatchewan, Kathleen Grissom is now happily rooted in south-side Virginia, where she and her husband live in the plantation tavern they renovated. She is the author of The Kitchen House and most recently Glory Over Everything.
Praise For…
---
" Five years after her novel The Kitchen House turned a stunning light on the lives at a Virginia plantation before the Civil War, Kathleen Grissom again takes up the generations of a family as they fight their way not only to a life of freedom, but to a life that matters. Everyone moving through these pages, especially James Pyke, established in this story as a durable character of American fiction, is tangled in a great web of secrets too important to keep and too dangerous to tell. Grissom has done the near-impossible: she has kept the tension alive, tension that doesn't let up until the final page."
— Jacqueline Mitchard, author of The Deep End of the Ocean and Two if by Sea

"Glory over everything, Kathleen Grissom has done it again! With her second novel, Kathleen gives us a stirring and uplifting tale of the triumph of compassion and courage over bigotry and brutality. The story jumps of the page, and her characters are unforgettably human. Perfect for book club discussions, Glory Over Everything is absolutely a must read."
— David R. Gillham, author of City of Women

" If Dickens had been an American he might have written such a novel as this, a story with all the elements of a classic, family secrets, the struggle of an orphan to affluence and prominence, a quest for love, plus miscegenation, and escape from slavery. This exciting story of danger, fear, cruelty, loyalty, and enduring love, brings alive some of the worst in our history, and some of the best.
— Robert Morgan, author of Gap Creek

"Grissom clearly has a knack for epic historical fiction. The brutality of slavery and the resilience of those subjected to it are the primary themes in both books. Jamie is a most-interesting character — a flawed protagonist who evolves through the course of his adventures. In fact, most of Grissom's characters have weaknesses along with strengths, making this saga of slavery as textured as it is tense."

"As she proved in The Kitchen House and reaffirms in GLORY OVER EVERYTHING, Grissom is a first-rate storyteller….But storytelling alone does not define her talents. A master of character creation and development, she draws a memorable cast….Throughout the novel, Grissom neither moralizes nor excuses; instead, she observes with an unwavering but kind eye, and she bestows upon the reader, amid terrible secrets and sin, a gift of mercy: the belief that hope can triumph over hell."

"Grissom's writing is authentic, and it is also full of sensitivity, compassion and an encompassing sense of respect for the people whose story she is seeking to tell."

"Compelling...engaging...Like The Kitchen House, Glory over Everything will appeal to readers who appreciate a thought-provoking historical drama, making it a good selection for book clubs as well."

"A gripping tale filled with vivid characters....Grissom is a superior storyteller."

"Grissom spins a dramatic story line—the suspense never wavers—and captures the racially tense times….An emotionally rewarding novel. Expect strong book club demand."

"A continuation of Grissom's (The Kitchen House, 2010) gripping saga of escaped slaves in the 1830s…Breathless to the end."

Grissom's lyrical storytelling is rich with period details, and the novel can be read as either a memorable standalone or a captivating sequel to The Kitchen House.

"Filled with romance, villains, violence, courage, compassion, secrets and suspense."
Congratulations!
Our very own Marie Benedict is #7 on the New York Times Bestsellers List with her enchanting new novel,
The Only Woman in the Room.
Join us in congratulating Ms. Benedict and stop in for a signed copy of her novel!