Kiss Myself Goodbye: The Many Lives of Aunt Munca (Hardcover)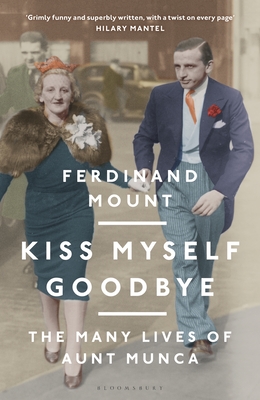 $30.00
Usually Ships in 1-5 Days
Description
---
From the bestselling author of the memoir Cold Cream comes this affectionate, bizarre, tragi-comical tale of Ferdinand Mount's Aunt Munca.

Munca--named after the mouse in the Beatrix Potter stories--never told the truth about anything. She was already a figure of mystery during her nephew Ferdinand Mount's childhood, and half a century on he embarks on a quest to uncover the true story of his beloved aunt.

His startling revelations are both shocking and sad, involving multiple deceptions, secret identities, bigamous marriages, and an extraordinary and at times frustrating trail that leads Mount all the way back from the streets of Sheffield at the end of the Victorian era to the higher echelons of English society in the inter-war years.

This is a book that will appeal to readers of family intrigue and mystery (like Laura Cummings's 2019 bestseller and Baillie Gifford-prize-shortlisted On Chapel Sands: My mother and other missing persons); to those who are interested in the social history of 20th Century Britain, told from an unusual and unconventional perspective; and to the aficionados of memorable aunts in literature, now a mini-genre, from Dickens' Betsy Trotwood to Graham Greene's Aunt Augusta. It will also delight readers who loved Ferdinand Mount's earlier autobiography.
About the Author
---
Ferdinand Mount was born in 1939, the son of a steeplechase jockey, and brought up on Salisbury Plain. After being educated at Eton and Oxford, he made various false starts as a children's nanny, a gossip columnist, bagman to Selwyn Lloyd, and leader-writer on the doomed Daily Sketch. He later surfaced, slightly to his surprise and everyone else's, as head of Margaret Thatcher's Policy Unit and later editor of the Times Literary Supplement. He is married with three children and two grandchildren and has lived in Islington for half his life. Apart from political columns and essays, he has written a six-volume series of novels, A Chronicle of Modern Twilight, which began with The Man Who Rode Ampersand, based on his father's racing life, and included Of Love And Asthma (he is a temporarily retired asthmatic), which won the Hawthornden Prize for 1992. He also writes what he calls Tales of History and Imagination, including Umbrella, which the historian Niall Ferguson called 'quite simply the best historical novel in years'.
Praise For…
---
"Aunt Munca flees the streets of Sheffield for a suite at Claridges, getting younger by the year and leaving behind her a trail of brazen lies and shattered pieties. In his family memoir, Ferdinand Mount pursues her with wit and skill through a career in which crime pays, marriage is for a week, and children are lost like old gloves. Kiss Myself Goodbye is grimly funny and superbly written, with a twist on every page." —Hilary Mantel, author of the Wolf Hall Trilogy

"Delightfully compulsive and unforgettably original. Mount unpeels the layers of this mysterious life with the tenacity of an experienced detective and the excitement of a fresh-eyed enthusiast." —Hadley Freeman, author of House of Glass: The Story and Secrets of a Twentieth-Century Jewish Family

"Extraordinary … shed[s] a brilliant light on the strangeness of people's lives, the need for disguise and masquerade, the shame that drives people to act in the most peculiar ways, the ghosts that reside, unburied, within us." —Craig Brown, Mail on Sunday

"Delicious … As well as an ear for the cadences of a sentence, Mount has a remarkable ability to convey the feeling of place … Beneath the surface of this sparklingly wry book you sense all kinds of unexplored feelings of abandonment and loss." —The Oldie

"Mount is one of our finest prose stylists and Kiss Myself Goodbye is a witty, moving and beautifully crafted account of one woman's determination to live to the full." —Daily Telegraph

"An extraordinary book" —Tatler

"Unique and immensely enjoyable. I only wish it were longer." —Spectator

"Kiss Myself Goodbye is a work of beauty. The simple truthfulness of Ferdinand Mount's storytelling is irresistible." —Literary Review