Buvette: The Pleasure of Good Food (Hardcover)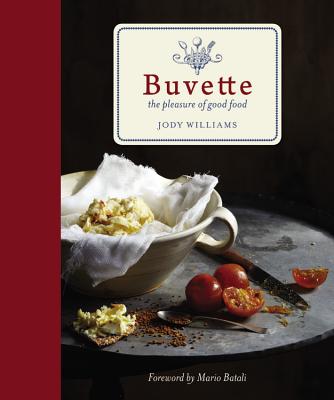 $30.00

Usually Ships in 1-5 Days
Description
---
The best of French Bistro cooking--simple yet sophisticated tastes--by the owner and chef of the celebrated New York restaurant.

Buvette will celebrate and capitalize on the trend of informal eating and simple entertaining, but with delicious flair. Jody Williams, owner of Buvette restaurant, shows the home cook how to create casual, polished meals without spending a lot of money or time. She has a certain aesthetic that is a combination of Italian and French bistro cooking in that she uses sophisticated taste combinations, but prepared in simple ways to make unforgettable dishes. A comfortable and interesting table will make your meals a pleasure and Williams offers suggestions for using varied plates (from your shelves or the flea market) and helps you think creatively about serving food, like scooping ice cream into a tea cup, or serving chocolate mousse in a silver tablespoon.

There will be recipes like Ricotta Fritters, Carrot Spoon Bread, Shaved Brussels Sprouts with Pecorino and Walnuts, Potato Chips with Rosemary Salt, Scallops with Caper Brown Butter, Ratatouille, Roasted Heirloom Apples Stuffed with Pork Sausage, Chocolate on a Spoon, and her special Tarte Tatin. There will be sections on Aperitifs and Cocktails and Coffees and Teas. Also included will be 25 sidebars that offer useful tips on everything from building a bar to removing wine stains. With gorgeous photography and surprisingly simple recipes, this will be the book cooks will turn to again and again.
About the Author
---
Jody Williams trained with Thomas Keller at Rakel and Lidia Bastianich at Felidia, and she traveled and worked in some of the best kitchens in Italy and France. In New York City she has headed the kitchens at notable restaurants like Giorgione, Gusto, and Keith McNally's Morandi and Gottino. She opened Buvette in 2010, which has been voted one of New York's Top 10 Restaurants by Travel and Leisure. Williams's cooking has been praised in such publications as the New York Times, Martha Stewart Living, Travel and Leisure, Gourmet, Glamour, the New Yorker, the Wall Street Journal,New York Magazine, the Village Voice, Time Out New York, and Grub Street. She has also appeared a number of times on The Martha Stewart Show and several times as a judge on the Food Network's hit show Chopped.
Praise For…
---
"This book is a treasure! The purity of ingredients and a charming French aesthetic are combined so beautifully that you want to taste every dish and cook them too!" ---Alice Waters, chef, author and proprietor of Chez Panisse

"Buvette, my favorite bistro in New York City, is an exquisitetreasure that should be wrapped in a Tiffany's blue box. Now comes Buvette the cookbook, a sparkling registry for the jewels of Jody Williams' kitchen. This book is bursting with recipes that will help turn a reader's kitchen into their very own gastrotheque." --Nancy Silverton, co-owner of Mozza and founder of La Brea Bakery

Jody Williams has crafted a career out of delivering big flavors in small, elegant packages." --Grub Street, 2013

The chocolate mousse and apple tart can turn the rest of the day into a dream." --Pia Catton, Wall Street Journal

"You can feel Jody William's passion and talent for great REAL cooking and food come through these beautiful pages. Her food is comforting, sophisticated and oh so delicious. From the Croque Monsieur to the Tarte Tatin--I want to eat it all!" --Suzanne Goin, author of The A.O.C. Cookbook



"If I had to describe Buvette, the cookbook, in one word, it would bePASSION - in all caps. This book is more than a set of recipes and stories,it's an invitation to live. It's a gem and a must-have on so many levels." --Carla Hall, Co-Host, ABC's The Chew



"Buvette is a valentine to Jody Williams' beloved West Village gastrotech, which has a passionate following. Jody has produced a simple book with her ingredient-centered philosophy and attention to detail. She is truly a master of the Mediterranean aesthetic." --Jim Lahey, Owner/founder, Sullivan Street Bakery

"Open this book and walk through the doors of the delicious celebration that is Buvette. Jody Williams invites you to cook by hand as she shares memories of simple yet sublime must try recipes. I am inspired to make every one of them...and I think I will!" --Sherry Yard, Chef/Owner Helms Bakery and author of Secrets of Baking