Also Known as Elvis (The Misfits) (Paperback)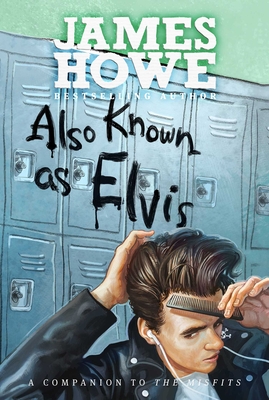 $8.99
Email or call for price.
Description
---
Skeezie Tookis has a life-changing summer in this fourth book of the funny, heartfelt, and beloved Misfits series by Bunnicula author James Howe.

I started wearing my dad's leather jacket that he left hanging in the closet. I nabbed it right before my mom was going to toss it in the trash. She hated that I wore that jacket, but it's what I have left of my dad.

Skeezie—also known as Elvis for the black leather jacket that he never takes off—isn't looking forward to the summer after seventh grade. While his best friends Bobby, Joe, and Addie have exciting adventures, he's stuck babysitting his sisters and working at the Candy Kitchen. True, he gets to hang out with the awesome Steffi, but he still has to contend with his maybe-crush on hot-and-cold Becca and Kevin Hennessey's never-ending bullying. When his dad suddenly reappears, it's another sign that this will be the worst summer ever.
About the Author
---
James Howe is the author of more than ninety books for young readers. Bunnicula, coauthored by his late wife Deborah and published in 1979, is considered a modern classic of children's literature. The author has written six highly popular sequels, along with the spinoff series Tales from the House of Bunnicula and Bunnicula and Friends. Among his other books are picture books such as Horace and Morris but Mostly Dolores and beginning reader series that include the Pinky and Rex and Houndsley and Catina books. He has also written for older readers. The Misfits, published in 2001, inspired the nationwide antibullying initiative No Name-Calling Week, as well as three sequels, Totally Joe, Addie on the Inside, and Also Known as Elvis. A common theme in James Howe's books from preschool through teens is the acceptance of difference and being true to oneself. Visit him online at JamesHowe.com.
Praise For…
---
**A Junior Library Guild Selection**

"Skeezie's story shares the series' strengths. With its companions, it's a powerful affirmation of friendship, compassion and the right to be accepted for who we are."
— Kirkus Reviews

"[A] thoughtful conclusion to the Misfits series . . . Howe shows uncanny understanding of adolescent concerns and vulnerabilities, painting a realistically complicated portrait of a boy's coming of age."
— Publishers Weekly

"Howe skillfully blends humor and pathos, effectively conveying the protagonist's conflicted feelings, even through his wisecracks, and his characterization is robust and nuanced."
— School Library Journal

"This is a fitting final installment in the [Misfits] series. Each of the books has a distinct voice, reflecting the individual protagonist's personality, yet they fit together perfectly, just like the friends themselves."
— Booklist