The Greater Journey: Americans in Paris (Abridged / CD-Audio)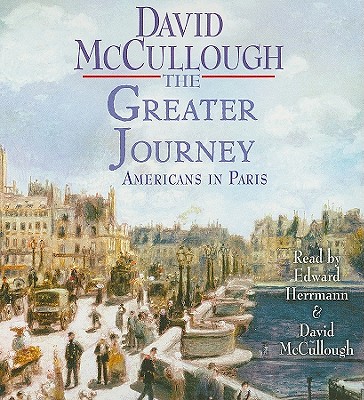 Description
---

Now in paperback, the New York Times bestseller from two-time Pulitzer Prize-winning author David McCullough—the inspiring, enthralling story of the American painters, writers, sculptors, and doctors who journeyed to Paris between 1830 and 1900.


A Special Audio Presentation of Unabridged Selections

Personally Chosen by David McCullough

The Greater Journey is the enthralling, inspiring—and until now, untold—story of the adventurous
American artists, writers, doctors, politicians, architects, and others of high aspiration who set off for Paris in
the years between 1830 and 1900, ambitious to excel in their work. Most had never left home, never experienced a different culture. None had any guarantee of success. That they achieved so much for themselves and their country profoundly altered American history. As David McCullough writes, "Not all pioneers went west."

Writer Emma Willard, who founded the first women's college in America, was one of the intrepid bunch.
Another was Charles Sumner, who enrolled at the Sorbonne where he saw black students with the same ambition he had, and when he returned home, he would become the most powerful, unyielding voice for abolition in the U.S. Senate. James Fenimore Cooper and Samuel F. B. Morse worked unrelentingly every day in Paris, Cooper writing and Morse painting what would be his masterpiece. From something he saw in France, Morse would also bring home his momentous idea for the telegraph. Writers Ralph Waldo Emerson, Nathaniel Hawthorne, Mark Twain, and Henry James were all "discovering" Paris, marveling at the treasures in the Louvre, or out with the Sunday throngs strolling the city's boulevards and gardens. "At last I have come into a dreamland," wrote Harriet Beecher Stowe, seeking escape from the notoriety Uncle Tom's Cabin had brought her. The genius of sculptor Augustus Saint-Gaudens and painter George Healy would flourish in Paris, inspired by the examples of brillant French masters, and by Paris itself.

For this special audio presentation, McCullough has chosen a selection of portraits, excerpted in their
entirety, that bring us into the lives of these remarkable men and women. A sweeping, fascinating story
told with power and intimacy, The Greater Journey is itself a masterpiece.



About the Author
---
David McCullough has twice received the Pulitzer Prize, for Truman and John Adams, and twice received the National Book Award, for The Path Between the Seas and Mornings on Horseback. His other acclaimed books include The Johnstown Flood, The Great Bridge, Brave Companions, 1776, The Greater Journey, and The Wright Brothers. He is the recipient of numerous honors and awards, including the Presidential Medal of Freedom, the nation's highest civilian award. Visit DavidMcCullough.com.

Edward Herrmann's films include Nixon, The Purple Rose of Cairo, Annie, and The Aviator. On television's Gilmore Girls he starred as the patriarch, Richard Gilmore. He has also appeared on The Good Wife, Law & Order, 30 Rock, Grey's Anatomy, and Oz. He earned an Emmy Award for The Practice, and remains well-known for his Emmy-nominated portrayals of FDR in Eleanor and Franklin and Eleanor and Franklin: The White House Years. On Broadway, he won a Tony Award for his performance in Mrs. Warren's Profession.
Praise For…
---
"An epic of ideas, as well as an exhilirating book of spells . . . This is history to be savored."
—Stacy Schiff, The New York Times Book Review




"An ambitious, wide-ranging study of how being in Paris helped spark generations of American genius. . . . A gorgeously rich, sparkling patchwork, eliciting stories from diaries and memoirs to create the human drama McCullough depicts so well."
—Kirkus Reviews (starred review)



"A lively and entertaining panorama. . . . By the time he shows us the triumphant Exposition Universelle in 1889, witnessed through the eyes of such characters as painters John Singer Sargent and Robert Henri, we share McCullough's enthusiasm for the city and his affection for the many Americans who improved their lives, their talent and their nation by drinking at the fountain that was Paris."
—Michael Sims, The Washington Post



"From a dazzling beginning that captures the thrill of arriving in Paris in 1830 to the dawn of the 20th century, McCullough chronicles the generations that came, saw and were conquered by Paris. . . . The Greater Journey will satisfy McCullough's legion of loyal fans . . . it will entice a whole new generation of Francophiles, armchair travelers and those Americans lucky enough to go to Paris before they die."
—Bruce Watson, The San Francisco Chronicle




"McCullough's skill as a storyteller is on full display. . . . The idea of telling the story of the French cultural contribution to America through the eyes of a generation of aspiring artists, writers and doctors is inspired. . . a compelling and largely untold story in American history."
—Kevin J. Hamilton, The Seattle Times




"There is not an uninteresting page here as one fascinating character after another is explored at a crucial stage of his development. . . . Wonderful, engaging writing full of delighting detail."
—John Barron, Chicago Sun-Times




"McCullough's research is staggering to perceive, and the interpretation he lends to his material is impressive to behold. . . . Expect his latest book to ascend the best-seller lists and be given a place on the year-end best lists."
—Booklist (starred review)



"A highly readable and entertaining travelogue of a special sort, an interdisciplinary treat from a tremendously popular Pulitzer Prize-winning historian. . . . Highly recommended."
—Library Journal (starred review)



"For more than 40 years, David McCullough has brought the past to life in books distinguished by vigorous storytelling and vivid characterizations. . . . . McCullough again finds a slighted subject in The Greater Journey, which chronicles the adventures of Americans in Paris. . . . Wonderfully atmospheric."
—Wendy Smith, Los Angeles Times




"McCullough has hit the historical jackpot. . . . A colorful parade of educated, Victorian-era American travelers and their life-changing experiences in Paris."
—Publishers Weekly (starred review)