The NFL Off-Camera: An A–Z Guide to the League's Most Memorable Players and Personalities (Hardcover)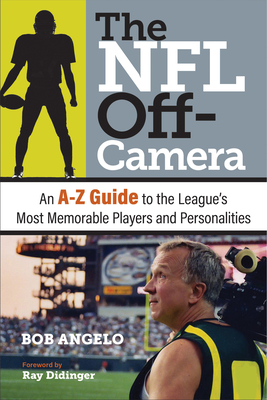 Description
---
During his four-decade career at NFL Films, writing and directing segments for weekly highlight shows and national telecasts, Bob Angelo saw and heard things that never made their way into his productions. Now, in The NFL Off-Camera, Angelo mines the thousands of interviews he conducted to compile a revealing collection of short, insightful essays profiling his favorite—and least favorite—pro football players, coaches, team owners, executives, and broadcasters—all of whom he interacted with personally.
 
Angelo effuses about his meeting with the larger-than-life Jim Brown and appreciates the trash talking John Randle. He poignantly reflects on "Bullet" Bob Hayes, the world's fastest man who "could not outrun his demons," and showcases the mercurial Duane Thomas and the free-wheeling Tony Siragusa. The NFL Off-Camera reveals why Angelo sparred with Hall-of-Fame player turned broadcaster Frank Gifford and demonstrates why Super Bowl champion head coach Sean Payton is his "least favorite person in pro football." 

From Jared Allen to Jim Zorn, The NFL Off-Camera explores nearly 100 of the game's outsized personalities and debunks some of football's most enduring myths. Angelo's original, unfiltered look at Pro Football is as hard-hitting and exciting as any one of his NFL Films.
 
 
About the Author
---
Bob Angelo is a retired producer, director, writer,  editor, and cameraman for NFL Films, where he worked from 1975 to 2018. He developed and then directed the first two seasons of NFL Films's groundbreaking training camp documentary show, Hard Knocks, for HBO Sports and filmed forty Super Bowls and more than 850 NFL games. He has won twenty-one Emmy Awards for his work. Visit him online at bobangelo.com.
Praise For…
---
"If you really are a true NFL fan and love the game, you will really enjoy reading about the different personalities that helped develop the tremendous fan base that exists today. Within this book, there are eleven different coaches I personally coached against during my career and twenty-nine different players that lined up and played against my teams! Only three players you are going to read about played on a team I coached—David 'Deacon' Jones, Morten Andersen, and Jared Allen. All unique complex personalities with Hall of Fame talent and a pleasure to really get to know! I believe you will enjoy getting to know these people as I did when you read Bob Angelo's The NFL Off-Camera. Enjoy!"—Coach Dick Vermeil, Pro Football Hall of Fame 2022

"If you love football and storytelling, this book is for you. Bob Angelo was a brilliant cinematographer and producer for NFL Films, which gave him first-hand, inside access to the game for forty-three years. The NFL Off-Camera regales us with his unvarnished insights into, and recollections about, the most memorable figures in pro football history—stories you've never heard before and couldn't hear from anyone else."—Andrea Kremer, Pro Football Hall of Fame journalist

"No one told NFL stories as a writer, cameraman, and director better than Bob Angelo. The way he documented the history of the NFL and its players, revealing each player's personality, whether mine, my brother's, or any of our teammates', makes him special. While profiling the 2001 Baltimore Ravens, Bob provided a glimpse of what training camp life was like for rookies and veteran players like myself, Goose [Tony Siragusa], Ray Lewis, and Rod Woodson, while allowing our personalities to shine through on Hard Knocks."—Shannon Sharpe, NFL Hall of Fame tight end and cohost of Skip and Shannon: Undisputed