National Geographic Almanac 2019: Hot New Science - Incredible Photographs - Maps, Facts, Infographics & More (Paperback)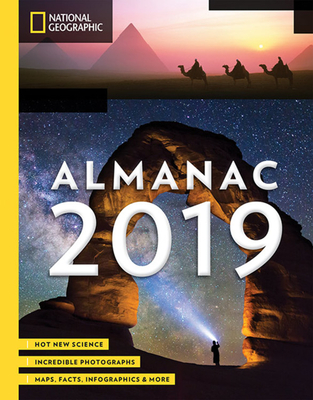 $19.99
Email or call for price.
About the Author
---
NATIONAL GEOGRAPHIC is one of the world's leading nonfiction publishers, proudly supporting the work of scientists, explorers, photographers, and authors, as well as publishing a diverse list of books that celebrate the world and all that is in it. National Geographic Books creates and distributes print and digital works that inspire, entertain, teach, and give readers access to a world of discovery and possibility on a wide range of nonfiction subjects from animals to travel, cartography to history, fun facts to moving stories. A portion of all National Geographic proceeds is used to fund exploration, conservation, and education through ongoing contributions to the work of the National Geographic Society.
Praise For…
---
Featured in Booklist's Top 10 Best Print Reference
"This boundary-pushing work skips statistics and tables in favor of two-page spreads of images, brief text, and factoids covering "Life on Earth" and "Yesterday to Tomorrow," complemented by high quality images." –Booklist

"…and what an almanac it is…Each section begins with a quiz which is an innovative method of enticing the reader to explore the content. What stands out most is the excellent quality of the images, no surprise considering the publisher…This outstanding boundary-pushing work belongs in every library collection." –Booklist, Starred Review

"Celebrate the world with beautiful photographs, infographics and maps, with chapters including Exploration & Adventure, This Planet & Beyond, Life on Earth, The Science of Us and more." –NY Post "Best Books of the Week"

"National Geographic is doing what it does best—delivering cutting-edge information to help us rekindle a childlike wonder…This book is a must-have—offer it as a gift, spark a conversation, utilize the trivia games as a positive distraction to avoid all the pink elephants in the room this holiday season." –Southern California Life Magazine

"A lively mix of all the things that National Geographic does best. The well-researched book features information from around the globe on everything from the environment to planetary science and space exploration, culture, and history." –Publishers Weekly

"National Geographic's Almanac 2019 is a fun, illustrative guide to the natural world and breakthrough sciences and, with 400 pages of stunning, evocative images, celebrates some of the most amazing places, events, and facts about Earth's history." –Boingboing.net

"When I received a copy of National Geographic's beautiful Almanac 2019, I felt like I was a kid all over again." –Scirens.com

"There is so much excellent and intriguing content as we turn the pages,…" –EDN Network

"This is a fascinating and mesmerizing book filled with so much information and beautiful photographs; I fell in love with it immediately." –Book Expression
 
"While Almanac 2019 contains a wealth of information, it also contains some especially breathtaking photography and images (including maps *swoon*) that will take anyone's breath away…I know I will find myself returning to it again and again. 5 stars." –Ms. Nose in a Book
 
"The book is a treasure trove of knowledge and trivia, all in small chunks, short paragraphs and fantastic pictures." –Man of La Book
 
"Throughout the book there are "Best of @NATGEO" sections containing some of the best photography of National Geographic. Beautiful landscapes, fascinating people, awe-inspiring weather and stunning sea life. Each image pulls you in, seeking to absorb every minute detail." –Cerebral Girl in a Redneck World
 
"Literally, there is something in here for everyone." –Into the Hall of Books

"The National Geographic ALMANAC 2019 is not your parents' Farmer's Almanac that might have taken up permanent residence in your family bathroom (as it did in mine)… I found some of the most compelling areas to be centered on current hot topics like climate change, conservation, gene editing, and health…If you love exploration and adventure as much as I do, then I whole-heartedly recommend you pick this one up! ★★★★★ –Instagram: @shereadswithcats
 
"This is the perfect book for those who love to find out new tidbits about anything and everything across the globe…and even in space." –Thoughts from a Highly Caffeinated Mind
 
"This year has a beautiful collection of facts, contemporary environmental issues and stunning pictures. " –Instagram: @carleyreads
 
"I can't put this book down. There is so much information to be learnt and so many interesting and beautiful pictures displayed that every night I pick it up and get absorbed into it." –Instagram: @all_books_great_and_small 
 
"It makes me appreciate the days before the Internet. It is a completely different feeling browsing through a book rather than looking for information on the Internet." –Instagram: @wordchild
 
"Have you ever looked at a copy of the National Graphic Magazine? Well Almanac 2019 is like those – with bells on. It contains 381 pages of all sorts of fascinating facts and is stuffed full of beautiful photographs." –Pining for the West
 
"National Geographic, unsurprisingly, makes a spectacular one. It's a wondrous book, and the sort of oversized tome encouraging readers to get lost in its pages. That's not such a bad thing; we dawdle on Instagram and on Facebook; this is a better use of time." –NJ.com

"An almanac like you've never seen before, this arresting volume features key information on science, nature, history, and geography, spiked with cutting-edge ideas and spectacular visuals. Discover features that only National Geographic can deliver, including exquisite photography, explanatory infographics, illustrated timelines, and maps created by expert cartographers…Enlightening for young and old, exquisitely designed, each page of this special almanac reveals something new about today's world." –City Book Review