Unraveller (Hardcover)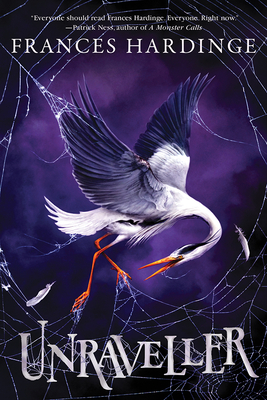 Description
---
A dark YA fantasy about learning to use your power and finding peace, from award-winning author Frances Hardinge

In a world where anyone can create a life-destroying curse, only one person has the power to unravel them.

Kellen does not fully understand his talent, but helps those transformed maliciously—including Nettle. Recovered from entrapment in bird form, she is now his constant companion and closest ally.

But Kellen has also been cursed, and unless he and Nettle can remove his curse, Kellen is in danger of unravelling everything—and everyone—around him . . .
About the Author
---
Frances Hardinge is the winner of the Costa Book of the Year for The Lie Tree, one of just two young adult novels to win the major UK literary prize. Known for her beautiful use of language, Hardinge has written many critically acclaimed novels, including Cuckoo Song, Gullstruck Island, Fly by Night, Verdigris Deep, and Fly Trap. She lives in England. Visit her at franceshardinge.com.

Praise For…
---
**STARRED REVIEW**
"Hardinge has a rare gift for crafting strange and original worlds, and here she's in top form. . . Brightening toward the end, frightening throughout, psychologically acute."—
Kirkus Reviews
**STARRED REVIEW**
"Hardinge again displays her knack for imbuing mythological-feeling tales with casts of creatures and characters who are fully realized and impeccably described, rendered in astonishing detail while carefully avoiding verbosity."
—
School Library Journal
**STARRED REVIEW**
"Brilliantly developed world. Kellen and Nettle are both memorable from their first introduction. As always, Hardinge is masterful at her ability to write poignant, thoughtful passages while also ably developing an expansive fantasy world that is believable and relatable."—
Bulletin of the Center for Children's Books
"Hardinge creates a top-notch fantasy with a fresh setting populated by original monsters (Bookbearers, Gladelords, Dancing Stars) and the feel of old folktales."—
The Horn Book
"Hardinge's immersive world building and layered plot pull readers into an adventure full of mystery, treachery, political machinations, and danger. A thought-provoking pick for tweens."—
Booklist