City Walls (Amos Walker Novels #31) (Hardcover)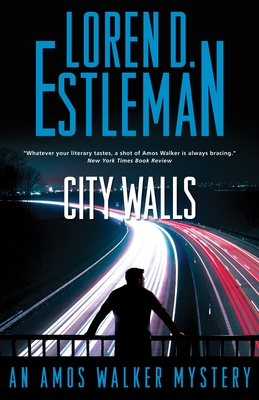 $26.99

Usually Ships in 1-5 Days
Other Books in Series
This is book number 31 in the Amos Walker Novels series.
Description
---
City Walls, the next Amos Walker novel from a Grand Master. "Loren D. Estleman is my hero."—Harlan Coben

The search for a fugitive embezzler leads Amos Walker to Cleveland, where he is hired by Emmett Yale, a leading figure in the electric car industry, to investigate the murder of his stepson. Yale believes that his stepson's hitman is connected to Clare Strickling, a former employee, and his attempts to silence whispers that he has bought illegal insider-trading information.

Walker shadows Strickling to a private airfield as he attempts to flee the country--only to then witness his murder. The twisted web of lies and deceit surrounding both deaths forces Walker to question the motivations of everyone he encounters, from Major Jack Flagg, an elderly barnstormer, Palm Volker, the attractive aviatrix who runs the airfield, Candido, a surly maintenance worker employed by Palm, and Gabe Parrish, a retired boxer. Naturally, everyone has secrets to keep--but the truths lurking beneath the surface this time may make this Walker's final case.

THE AMOS WALKER SERIES:
Poison Blonde / Retro / Nicotine Kiss / American Detective / The Left-handed Dollar / Infernal Angels / Burning Midnight / Don't Look for Me / You Know Who Killed Me / The Sundown Speech / The Lioness is the Hunter / Black and White Ball / When Old Midnight Comes Along / Cutthroat Dogs / Monkey in the Middle

THE PAGE MURDOCK SERIES:
The High Rocks / Stamping Ground / Murdock's Law / City of Widows / White Desert / Port Hazard / The Book of Murdock / Cape Hell / Wild Justice

THE PETER MACKLIN SERIES:
Something Borrowed, Something Black / Little Black Dress

THE VALENTINO MYSTERIES:
Frames / Alone / Alive! / Shoot / Brazen / Indigo

Other books by Loren D. Estleman:
Aces & Eights
The Ballad of Black Bart
Black Powder, White Smoke
The Book of Murdock
The Branch and the Scaffold and Billy Gashade
The Confessions of Al Capone
The Eagle and the Viper
Gas City
Jitterbug
Journey of the Dead and The Undertaker's Wife
The Long High Noon and The Adventures of Johnny Vermillion
The Master Executioner
Paperback Jack
Ragtime Cowboys
The Rocky Mountain Moving Picture Association
Roy & Lillie: A Love Story
Thunder City
About the Author
---
Loren D. Estleman is the author of more than eighty novels, including the Amos Walker, Page Murdock, and Peter Macklin series. The winner of four Shamus Awards, five Spur Awards, and three Western Heritage Awards, he lives in Central Michigan with his wife, author Deborah Morgan.
Praise For…
---
"Decades after his debut, Walker remains as vigorous as ever. Fans of Chandler and Hammett will be thrilled." —Publishers Weekly (starred review)

PRAISE FOR THE AMOS WALKER SERIES:
"[An] outstanding 29th hard-boiled mystery...Estleman makes old-school, dogged, hit-the-pavement sleuthing plausible, while peppering the narrative with biting prose. This long-running series shows no sign of flagging." —Publishers Weekly starred review

"His novels—regardless of type—are peppered with humor, irony, and melancholy, and as a narrator, Murdock delivers all three. A clever plot and a satisfying conclusion round out a very enjoyable read." —Booklist on The Book of Murdock

"Estleman has piled up enough literary awards to add a wing to his home. Read this classic yet modern example of the hard-boiled detective novel and you'll begin to understand why." —Booklist on Infernal Angels

"Don't Look for Me is so old-school, with its world-weary private eye, cynical villains and sultry dames, that it's new again." —The New York Times Book Review