A Prom to Remember (Paperback)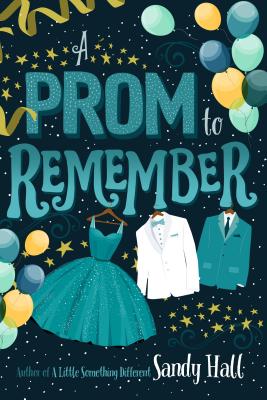 $10.99
Usually Ships in 1-5 Days
Description
---
Love it or hate it, you'll never forget it. In this heart-warming YA novel, Swoon Reads star Sandy Hall explores a classic high school celebration, capturing every relatable and hilarious teen milestone along the way.

Cora: Dating Perfect Boyfriend Jamie. Has NO IDEA how to break up with him...
Paisley: Anti-prom. Somehow nominated her anxiety-ridden best friend for prom king...
Henry: Hates social situations. Invited to prom by the most popular girl in school. SEND HELP!
Otis: Half of one of the cutest couples in his class. Not quite ready for a post-prom hotel room...
Lizzie: Shy. Excited to go to prom. With a boy. Whose name she doesn't know.
Cameron: Loner. Over high school. Just wants to meet the mysterious girl who's been leaving him notes...
Jacinta: Unnamed Nerd Girl #3. Determined to become the star of her own life, starting with prom...
Chosen by readers like you for Macmillan's young adult imprint Swoon Reads, A Prom to Remember, from Sandy Hall (author of A Little Something Different), is a funny and cinematic look at the biggest dance of every high schooler's life.

Praise for A Prom to Remember:

"Told from the perspectives of a diverse group of seniors, this romance explores first love, break-ups, promposals, and the anxiety and anticipation of an after-prom hotel room stay. Hall adeptly balances seven different voices without using stereotypical teen tropes. . . . Twists and turns and the intertwining of stories will keep readers engaged. Highly recommended." — School Library Journal
About the Author
---
SANDY HALL is the author of A Little Something Different and Signs Point to Yes. She is a teen librarian from New Jersey, where she was born and raised, and has a BA in Communication and a Master of Library and Information Science from Rutgers University. When she isn't writing or teen librarian-ing, she enjoys reading, marathoning TV shows, and taking long scrolls through Tumblr.
Praise For…
---
"Told from the perspectives of a diverse group of seniors, this romance explores first love, break-ups, promposals, and the anxiety and anticipation of an after-prom hotel room stay. Hall adeptly balances seven different voices without using stereotypical teen tropes. . . . Twists and turns and the intertwining of stories will keep readers engaged. Highly recommended." —School Library Journal