Just Between Us: A Novel (Paperback)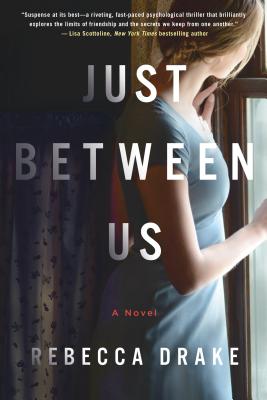 Description
---
"Twisty and compelling [...] a terrific read." — Associated Press

"Compulsively readable... Just Between Us winds its roller-coaster plot around our tendency to see exactly what we are looking for—while our little lies take on dangerous lives of their own." — O, The Oprah Magazine

"A twisty, domestic thriller [...] tense, bombshell-laden, and action-packed." — Publishers Weekly

"Female friendships flourish, then falter, under the weight of chance events underlaid by secrecy and deceit [...] Drake shows a sure hand in spinning suburban thrillers." — Booklist

Four suburban mothers conspire to cover up a deadly crime in Just Between Us, a heart-stopping novel of suspense by Rebecca Drake.
Alison, Julie, Sarah, Heather. Four friends living the suburban ideal. Their jobs are steady, their kids are healthy. They're as beautiful as their houses. But each of them has a dirty little secret, and hidden behind the veneer of their perfect lives is a crime and a mystery that will consume them all.
Everything starts to unravel when Alison spots a nasty bruise on Heather's wrist. She shares her suspicions with Julie and Sarah, compelling all three to investigate what looks like an increasingly violent marriage. As mysterious injuries and erratic behavior mount, Heather can no longer deny the abuse, but she refuses to leave her husband. Desperate to save her, Alison and the others dread the phone call telling them that she's been killed. But when that call finally comes, it's not Heather who's dead. In a moment they'll come to regret, the women must decide what lengths they'll go to in order to help a friend.
Just Between Us is a thrilling glimpse into the underbelly of suburbia, where not all neighbors can be trusted, and even the closest friends keep dangerous secrets. You never really know what goes on in another person's mind, or in their marriage.
About the Author
---
REBECCA DRAKE is the author of the novels Don't Be Afraid, The Next Killing, The Dead Place, which was an IMBA bestseller, and Only Ever You, as well as the short story "Loaded," which was featured in Pittsburgh Noir. A former journalist and native New Yorker, Rebecca currently lives in Pittsburgh, PA, with her husband and two children.
Praise For…
---
"Just Between Us winds its roller-coaster plot around our tendency to see exactly what we are looking for—while our little lies take on dangerous lives of their own." -- Oprah.com
"Twisty and compelling [...] a terrific read." -- Associated Press
"A twisty, domestic thriller [...] tense, bombshell-laden, and action-packed." — Publishers Weekly
"Female friendships flourish, then falter, under the weight of chance events underlaid by secrecy and deceit [...] Drake shows a sure hand in spinning suburban thrillers." —Booklist
"Rebecca Drake's Just Between Us is suspense at its best--a riveting, fast-paced psychological thriller that brilliantly explores the limits of friendship and the secrets we keep from one another." — New York Times bestselling author Lisa Scottoline
"Fans of Liane Moriarty and B.A. Paris are going to love this twisty, diabolical suburban thriller. Clear your evening, you won't be able to put it down." — J.T. Ellison, New York Times bestselling author of Lie to Me
"Rebecca Drake's Just Between Us is a stunner - a tense, twisty thriller about four ordinary women that begs the question: When a friend is in trouble, and all you want to do is help, how can everything go so terribly wrong?" — Karen Dionne, author The Marsh King's Daughter
"Rebecca Drake's Just Between Us is a riveting thriller that reveals the dark heart beating in the middle of American suburbia. Every character in this rich novel has a secret, and the secrets get deeper and darker as the pitch-perfect plot unfolds. This is a stunning story of friendship and the tangled lies that bind four women together. Don't miss it!" — David Bell, author of Bring Her Home