Hemingway in Love: The Untold Story: A Memoir by A. E. Hotchner (Paperback)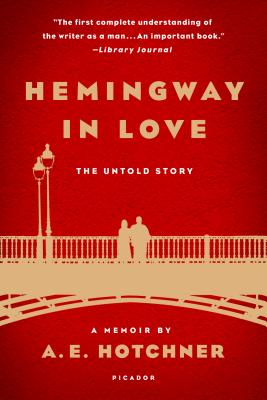 Description
---
In June of 1961, A. E. Hotchner visited a close friend in the psychiatric ward of St. Mary's Hospital. It would be the last time they spoke—three weeks later, Ernest Hemingway returned home, where he took his own life. Their final conversation was also the final installment in a saga that Hemingway had unraveled for Hotchner over years of world travel.
Ernest always kept a few of his special experiences off the page, storing them as insurance against a dry-up of ideas. But after a near miss with death, he entrusted his most meaningful tale to Hotchner, so that if he never got to write it himself, then at least someone would know. In characteristically pragmatic terms, Hemingway divulged the details of the affair that destroyed his first marriage: the truth of his romantic life in Paris and how he gambled and lost Hadley, the great love he'd spend the rest of his life seeking.
But the search was not without its notable moments, and he told of those, too: of impotence cured in a house of God; of back-to-back plane crashes in the African bush, one of which nearly killed him, while he emerged from the other brandishing a bottle of gin and a bunch of bananas; of cocktails and commiseration with F. Scott Fitzgerald and Josephine Baker; of adventure, human error, and life after lost love. This is Hemingway as few have known him—humble, thoughtful, and full of regret.
To protect the feelings of Ernest's wife, Mary, who was also a close friend, Hotch kept these conversations to himself for decades. Now he tells the story as Hemingway told it to him. Hemingway in Love puts you in the room with the master and invites you to listen as he relives the drama of those young, definitive years that set the course for the rest of his life and dogged him to the end of his days.
About the Author
---
A.E. HOTCHNER is an effervescent and charismatic nonagenarian. A life-long writer, he has written eighteen books including his 1966 internationally bestselling biography of his close friend Ernest Hemingway, Papa Hemingway. His memoir, King of the Hill, was adapted into a film in 1993 by Steven Soderbergh. In addition to his successful, decades-long writing career, Hotchner is co-founder, along with Paul Newman, of Newman's Own foods. He lives in Connecticut with his wife and pet parrot, Ernie.
Praise For…
---
"In this piercingly intimate new volume, A. E. Hotchner plumbs the depths of Hemingway's most poignant realizations and regrets - not just whom he loved and ultimately lost, but the very nature of his heart. A tender and devastating portrait...and one I will personally treasure." - Paula McLain, author of The Paris Wife
"The first complete understanding of the writer as a man...an important book."—Library Journal (starred review)
"A portrait of triumphant highs, melancholic lows, and the pervading tone of the subject's generation—a human being's love lost."—Publishers Weekly
"Hotchner tells an engaging and harrowing story...offers us something of a 'behind the scenes' glimpse at how Hemingway was processing his past, and dealing with the lingering trauma of regret, physical pain, and his deteriorating creative ability....The final years of Hemingway's life have never been told with such eloquence and compassion."—PopMatters
"Hotchner takes his reader into the beautiful Gritti Palace Hotel in Venice...paints Paris in the 1920s replete with Gertrude Stein, Zelda and Scott Fitzgerald, Archibald MacLeish, Ezra Pound, James Joyce, and others. ...Hemingway in Love is a lovely little amuse-gueule."—The Lincoln Star Journal
"A. E. Hotchner's Hemingway in Love is a poignant postscript to A Moveable Feast...a book of elegiac charm."—BookPage
"A. E. Hotchner is a natural storyteller, and it has been our good fortune that among his friends and acquaintances are bullfighters, glamorous women, talented actors, painters, poets, and interesting poseurs - people who attract and enlighten readers. Hemingway in Love is the crowning achievement in Hotchner's lifetime study of Hemingway, and I admire it immensely." —Gay Talese
Congratulations!
Our very own Marie Benedict is #7 on the New York Times Bestsellers List with her enchanting new novel,
The Only Woman in the Room.
Join us in congratulating Ms. Benedict and stop in for a signed copy of her novel!