My Big Fat Zombie Goldfish (Paperback)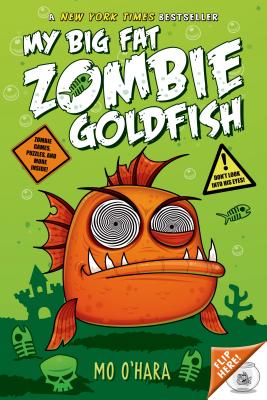 $7.99

Usually Ships in 1-5 Days
Description
---
When Tom's big brother decides to become an Evil Scientist, his first experiment involves dunking Frankie the goldfish into toxic green gunk. Tom and his best friend Pradeep know that there is only one thing to do: Zap the fish with a battery and bring him back to life! But there's something weird about the new Frankie. He's now a BIG FAT ZOMBIE GOLDFISH with hypnotic powers . . . and he's out for revenge!

Mo O'Hara's debut novel, a New York Times bestseller, is the first book in a hilarious illustrated chapter book series.
About the Author
---
Mo O'Hara is the author of the My Big Fat Zombie Goldfish series. She grew up in Pennsylvania and now lives in London, where she works as a writer, actor, and storyteller, visiting theaters and schools all across the UK and Ireland. Mo and her brother once brought their own pet goldfish back from the brink of death (true fact).

Marek Jagucki, the illustrator of the My Big Fat Zombie Goldfish series, is a graduate of Falmouth School of Art and Design. He is a full-time illustrator and graphic designer based in Yorkshire, UK.
Praise For…
---
"A kooky, zany little story about a boy and his pet zombie goldfish, Frankie. The kids in my library are already clamoring for this book and I can't get it ready for the shelves soon enough for them. Keep up the good work" —Wendy A. Emlinger

"I saw this book on sale at Walmart, and I couldn't resist picking it up. The cover just popped out at me. It's a good sized book for young readers. I read it in one sitting, and I loved it!" —Angela Roquet

"The book is packed with bonkers humour … Anyone who likes books by Dav Pilkey would seriously love this book." —Biteso, for TheGuardian.com