That Night: A Novel (Hardcover)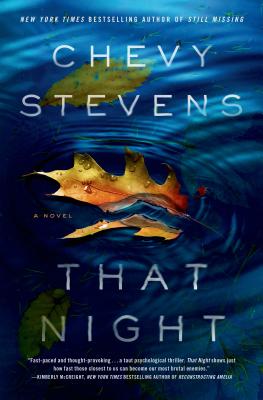 July 2014 Indie Next List
---
"What happens if you are a teenager accused of a murder you didn't commit, the town considers you no good, and your parents agree with them? For Toni Murphy the nightmare is only beginning. She is now out on parole and with the help of her boyfriend is looking for her sister's killers. This book is a rollercoaster of suspense and when the truth is finally revealed it is a relief, but then there is yet one more unexpected twist. What a ride!"
— Janice Hunsche, Kaleidosaurus Books, Fishers, IN
Description
---
As a teenager, Toni Murphy had a life full of typical adolescent complications: a boyfriend she adored, a younger sister she couldn't relate to, a strained relationship with her parents, and classmates who seemed hell-bent on making her life miserable. Things weren't easy, but Toni could never have predicted how horrific they would become until her younger sister was brutally murdered one summer night.
Toni and her boyfriend, Ryan, were convicted of the murder and sent to prison.
Now thirty-four, Toni, is out on parole and back in her hometown, struggling to adjust to a new life on the outside. Prison changed her, hardened her, and she's doing everything in her power to avoid violating her parole and going back. This means having absolutely no contact with Ryan, avoiding fellow parolees looking to pick fights, and steering clear of trouble in all its forms. But nothing is making that easy—not Ryan, who is convinced he can figure out the truth; not her mother, who doubts Toni's innocence; and certainly not the group of women who made Toni's life hell in high school and may have darker secrets than anyone realizes. No matter how hard she tries, ignoring her old life to start a new one is impossible. Before Toni can truly move on, she must risk everything to find out what really happened that night.
But in That Night by Chevy Stevens, the truth might be the most terrifying thing of all.
About the Author
---
Chevy Stevens is the author of Still Missing and Never Knowing. Before becoming a writer, she worked as a realtor. When she held open houses, she had a lot of time waiting by herself between potential buyers, and Stevens would spend this time scaring herself with all the things that could happen to her. The most terrifying scenario she thought up became the story behind Still Missing. Stevens grew up on a ranch on Vancouver Island, and she still calls the island home. When she's not writing, she's hiking with her husband and her dog in the local mountains.
Praise For…
---
"A thriller that will grip you from page one." —Harlan Coben
"Fast-paced and thought-provoking, That Night is a taut psychological thriller which skillfully explores bullying in its most terrifying forms. From the high school parking lot to the prison yard to a family's own living room, That Night shows just how fast those closest to us can become our most brutal enemies." —Kimberly McCreight, New York Times bestselling author of Reconstructing Amelia
"Intense and disturbing - a terrific psychological thriller." —Lee Child
"Chevy Stevens has done it again, crafting a story fraught with suspense that weaves back and forth through time and keeps you guessing. A gripping tale of secrets, betrayal, heartbreak, and ultimately, redemption, That Night is an emotional rollercoaster you'll be sorry to get off of when you finish the last page." —Jennifer McMahon, New York Times Bestselling author of The Winter People
Congratulations!
Our very own Marie Benedict is #7 on the New York Times Bestsellers List with her enchanting new novel,
The Only Woman in the Room.
Join us in congratulating Ms. Benedict and stop in for a signed copy of her novel!