Past Imperfect: A Novel (Paperback)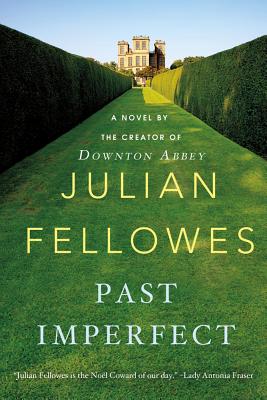 $18.99

Usually Ships in 1-5 Days
Description
---
From the creator of the Emmy Award-winning Downton Abbey...

"Damian Baxter was a friend of mine at Cambridge. We met around the time when I was doing the Season at the end of the Sixties. I introduced him to some of the girls. They took him up, and we ran about together in London for a while…."

Nearly forty years later, the narrator hates Damian Baxter and would gladly forget their disastrous last encounter. But if it is pleasant to hear from an old friend, it is more interesting to hear from an old enemy, and so he accepts an invitation from the rich and dying Damian, who begs him to track down the past girlfriend whose anonymous letter claimed he had fathered a child during that ruinous debutante season.
The search takes the narrator back to the extraordinary world of swinging London, where aristocratic parents schemed to find suitable matches for their daughters while someone was putting hash in the brownies at a ball at Madame Tussaud's. It was a time when everything seemed to be changing—and it was, but not always quite as expected.

Past Imperfect is Julian Fellowes at his best--a novel of secrets, status, and a world in upheaval.
About the Author
---
Julian Fellowes is the Emmy Award-winning writer and creator of Downton Abbey and the winner of the 2001 Academy Award for Best Original Screenplay for Gosford Park. He also wrote the screenplays for Vanity Fair and The Young Victoria. He is the bestselling author of Snobs and Past Imperfect. His other works include The Curious Adventure of the Abandoned Toys and the book for the Disney stage musical of Mary Poppins.

As an actor, his roles include Lord Kilwillie in the BBC Television series Monarch of Glen and the 2nd Duke of Richmond in Aristocrats, as well as appearances in the films Shadowlands, Damage, and Tomorrow Never Dies.

He lives in London and Dorset, England.
Praise For…
---
"It's like a visit to an English country estate: breezy, beautiful and charming." —New York Times Book Review

"All this would be satire if it weren't so much like a diary, and though those who know about such things generally don't tell, Fellowes, a more genial Evelyn Waugh, seems to hide a notebook in his dinner jacket." —People (4 stars)

"Fellowes has a high time skewering the foibles of the landed British gentry..." —Entertainment Weekly

"Julian Fellowes knows a thing or two about British society and those who dare to infiltrate it....delightful" —Vogue

"A guilty pleasure of a novel [that] seems authentic down to the wallpaper and the Wellingtons. Hilarious...sharp, entertaining, and unforgiving." —Anna Quindlen

"It's not only the rich who are different, it's the British upper classes too. This complicated truth, all the more palatable if delivered amusingly, has been successfully tackled by such insiders as P.G. Wodehouse, Evelyn Waugh and Nancy Mitford, and is now resurrected by Julian Fellowes." —The Miami Herald