Landlord's Legal Kit for Dummies (Paperback)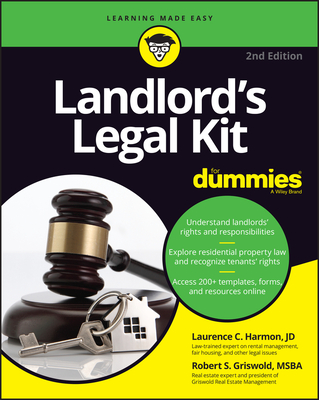 $34.99
Email or call for price.
Description
---
Howdy, landlord Get on the right side of the law with Dummies
Landlord's Legal Kit For Dummies contains all the resources landlords need to unpack the legal side of renting properties. Inside you'll find worksheets, templates, and friendly explanations that will help you find success. Once you have your property and your tenants, you'll need to make sure you operate within your rights, complete all the necessary admin, and handle taxes in an accurate and timely way. This book can help you do just that, with the latest paperwork, helpful details and examples, and a breakdown of taxes and laws. Plus, you can go beyond the book by accessing online documents that take your learning to the next level.
Understand all the latest housing laws that pertain to your specific rental situation
Find drafts of all the legal forms you'll need as a landlord
Access easy-to-use tax worksheets and clear descriptions of tax rules without legal jargon
Recognize your rights as a landlord and understand your tenants' rights
This is the perfect Dummies guide for both new and experienced landlords who need a hands-on legal reference for all the laws surrounding rent, rental properties, and tenants.
About the Author
---
Robert Griswold is President of Griswold Real Estate Management Inc and has served on the Counselors of Real Estate. Robert is the author of several Dummies titles. Laurence ("Laurry") Harmon is President of Harmon Law LLC. He specializes in real estate law and provides extensive teaching, market research, and consulting on real estate subjects.