Hello, Maine! (Hello!) (Board Books)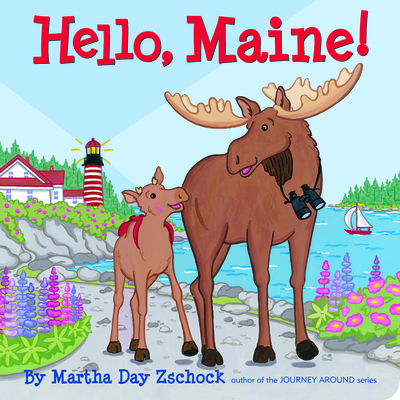 $9.95
Email or call for price.
Description
---
Welcome to Maine Follow a parent and child moose as they tour Maine, exploring from the rocky coastline to the heights of Katahdin--the highest mountain in the region. Along the way they visit lighthouses, see tidal pools, fish for lobsters, and dig for clams. They drive the coast in an old pickup truck, sail from island to island, and camp out under the stars. Little children and their loved ones will love this beautifully-illustrated view of Maine to remind them of their own visit
Bestselling author Martha Day Zschock is an artist and former elementary teacher with a passion for helping children explore new places. The Hello series illustrates how exploring real places yields new discoveries. Through these journeys, kids can explore and become experts on the world they see inside and outside the book, through the engaging, bright, and detailed illustrations. For ages 2-5. Made in the USA.
About the Author
---
Martha Day Zschock majored in art at Connecticut College and earned her master's in education from Lesley College. Zschock is the author and illustrator of all the books in the "Journey Around" series. A former elementary teacher, she developed her first book, Journey Around Cape Cod and the Islands from A to Z, from field trips with her students. She lives in Orleans, Massachusetts.