Maya's Blanket/La Manta de Maya (Hardcover)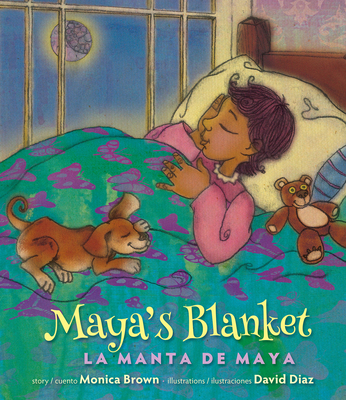 $18.95
Email or call for price.
Description
---
Bilingual English/Spanish. Based on a Yiddish folk song, a young girl's cherished baby blanket becomes old and worn over time and she finds new ways to use it as she grows up.
Little Maya has a special blanket that Grandma stitched with her own two hands. As Maya grows, her blanket becomes worn and frayed, so with Grandma's help, Maya makes it into a dress. Over time the dress is made into a skirt, a shawl, a scarf, a hair ribbon, and finally, a bookmark. Each item has special, magical, meaning for Maya; it animates her adventures, protects her, or helps her in some way. But when Maya loses her bookmark, she preserves her memories by creating a book about her adventures and love of these items. When Maya grows up, she shares her book--Maya's Blanket/La manta de Maya--with her own little daughter while snuggled under her own special blanket. Inspired by the traditional Yiddish folk song Hob Ikh Mir a Mantl (I Had a Little Coat), this delightful bilingual picture book puts a child-focused, Latino spin on the tale of an item that is made into smaller and smaller items. Maya's Blanket/La manta de Maya charmingly brings to life this celebration creativity, recycling, and enduring family love.
About the Author
---
Monica Brown is the author of many award-winning bilingual books for children, many of which are inspired by her Peruvian American heritage. Monica is a Professor of English at Northern Arizona University, specializing in U.S. Latino Literature and Multicultural Literature. She lives in Flagstaff, Arizona. You can find her online at monicabrown.net. David Diaz won the Caldecott Medal in 1995 for Smoky Night. He is the illustrator of many other popular children's books as well, including December, Roadrunner's Dance, Going Home, and Wilma Unlimited. Diaz is also an accomplished potter, and he has sold his work to collectors throughout the country. He lives in Carlsbad, California.