Apollo's Angels: A History of Ballet (Paperback)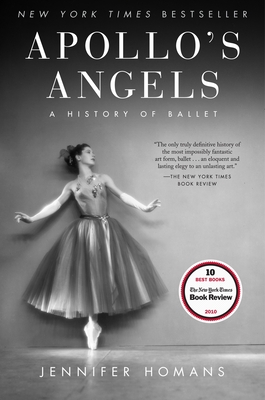 $23.00
Email or call for price.
Description
---
NATIONAL BESTSELLER

For more than four hundred years, the art of ballet has stood at the center of Western civilization. Its traditions serve as a record of our past. Lavishly illustrated and beautifully told, Apollo's Angels—the first cultural history of ballet ever written—is a groundbreaking work. From ballet's origins in the Renaissance and the codification of its basic steps and positions under France's Louis XIV (himself an avid dancer), the art form wound its way through the courts of Europe, from Paris and Milan to Vienna and St. Petersburg. In the twentieth century, émigré dancers taught their art to a generation in the United States and in Western Europe, setting off a new and radical transformation of dance. Jennifer Homans, a historian, critic, and former professional ballerina, wields a knowledge of dance born of dedicated practice. Her admiration and love for the ballet, as Entertainment Weekly notes, brings "a dancer's grace and sure-footed agility to the page."

NAMED ONE OF THE BEST BOOKS OF THE YEAR BY THE NEW YORK TIMES BOOK REVIEW • LOS ANGELES TIMES • SAN FRANCISCO CHRONICLE • PUBLISHERS WEEKLY
About the Author
---
Jennifer Homans was a professional dancer trained at the North Carolina School of the Arts, American Ballet Theatre, and The School of American Ballet. She performed with the Chicago Lyric Opera Ballet, the San Francisco Ballet, and Pacific Northwest Ballet. Currently the dance critic for The New Republic, she has written for The New York Times, the International Herald Tribune, The New York Review of Books, and The Australian. She earned her B.A. at Columbia University and her Ph.D. in modern European history at New York University, where she is a Distinguished Scholar in Residence.
Praise For…
---
"The only truly definitive history of the most impossibly fantastic art form, ballet . . . an eloquent and lasting elegy to an unlasting art."—The New York Times Book Review

"A delight to read, massively informed yet remarkably agile . . . The story of ballet offers a singular perspective on the evolution of our culture: a fascinating mirror on the arts. Nowhere is this narrative told more amply and compellingly than in Jennifer Homans's triumphant Apollo's Angels."—The Washington Post
 
"Here is a book of immense ambition—a one-volume history of ballet—and of considerable accomplishment. Jennifer Homans, whom we know primarily as The New Republic's provocative dance critic, shows herself to be both dogged and graceful as a historian—a rare and welcome combination of qualities."—The New York Review of Books
 
"Intellectually rigorous, beautifully written, brilliantly structured."—San Francisco Chronicle
 
"Magnificent . . . [a] monumental work."—The Boston Globe

"Each page of this luminous work delights, enlightens and beckons. Every dancer should live with this book, of course, but every person who loves literature and history, is word-struck and story-addicted, should give themselves a treat with Apollo's Angels. Treasure this treasure."—Jacques d'Amboise

"This is a wonderful book about how ballet evolved. Written by a gifted dancer, Apollo's Angels is dance history seen from the inside. The wonder to me is how much this accessible, beautifully-crafted book reveals about the times and places in which ballets were made; it makes culture come alive."—Richard Sennett, author of The Craftsman
 
"A dancer who is also a historian—who ever dreamed of such an improbable creature? But here is Jennifer Homans and her indispensable book. She puts the understanding of ballet on a whole new footing. Finally the delicacies of ballet have been restored to the indelicacies of history, and the art seems even more wondrous for it. Apollo's Angels is an enlightenment, a remarkable feat of scholarship and sensibility, an affecting mixture of criticism and devotion, an intellectual joy."—Leon Wieseltier
Coverage from NPR