South of Sunshine (Hardcover)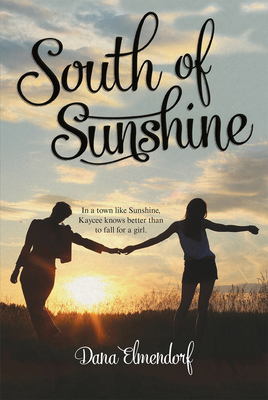 $16.99
Email or call for price.
Description
---

Kaycee Jean McCoy has lived her entire life in Sunshine, Tennessee. Sweet tea flows through her veins and "yes ma'am" is ingrained in her DNA. In Sunshine, going to church is basically mandatory, and gay had better be your mood and not your sexual orientation. Kaycee may not agree with the town's socially accepted bigotry, but she'd rather fit in—even if it means letting gross Dave Bradford kiss her on occasion—than make waves. That is, until the beautiful, sexy, impossibly cool Bren Dawson moves into town. Kaycee is swept up in a whirlwind of exciting new emotions and lets her guard down. One night under a fat country moon, Kaycee's best friend catches them kissing, and Kaycee's whole world goes to hell in a handbasket. What is she willing to risk for the sake of love? And what will she risk for acceptance?

About the Author
---
Dana Elmendorf was born and raised in a small town in Tennessee, and now lives in southern California with her husband, two boys, and her tiny dog. This is her first book.