Raceball: How the Major Leagues Colonized the Black and Latin Game (Paperback)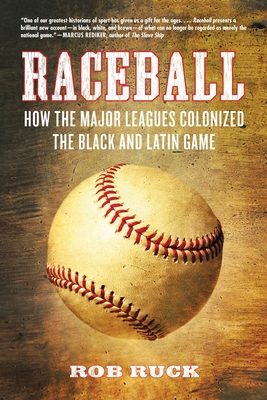 Email or call for price.
Usually Ships in 1-5 Days
Description
---
From an award-winning writer, the first linked history of African Americans and Latinos in Major League Baseball

After peaking at 27 percent of all major leaguers in 1975, African Americans now make up less than one-tenth--a decline unimaginable in other men's pro sports. The number of Latin Americans, by contrast, has exploded to over one-quarter of all major leaguers and roughly half of those playing in the minors. Award-winning historian Rob Ruck not only explains the catalyst for this sea change; he also breaks down the consequences that cut across society. Integration cost black and Caribbean societies control over their own sporting lives, changing the meaning of the sport, but not always for the better. While it channeled black and Latino athletes into major league baseball, integration did little for the communities they left behind.

By looking at this history from the vantage point of black America and the Caribbean, a more complex story comes into focus, one largely missing from traditional narratives of baseball's history. Raceball unveils a fresh and stunning truth: baseball has never been stronger as a business, never weaker as a game.
About the Author
---
Rob Ruck teaches at the University of Pittsburgh. Author of Sandlot Seasons: Sport in Black Pittsburgh and The Tropic of Baseball: Baseball in the Dominican Republic, he made the Emmy Award–winning documentary Kings on the Hill: Baseball's Forgotten Men. He lives in Pittsburgh with his wife, Maggie Patterson, his coauthor for Rooney: A Sporting Life.
Praise For…
---
"Raceball proves that Ruck remains at the top of his game. Incorporating personal interviews with many former players and personalities, such as Harold Tinker, Ted Page, Mal Goode, and August Wilson, who have since passed away, Ruck relies on their voices from the grave and his deep knowledge of black and Latin baseball to make his narrative truly sing."—Brad Snyder, author of A Well-Paid Slave

"One of our greatest historians of sport has given us a gift for the ages: a history of baseball that captures its multicultural dynamics in original and profoundly illuminating ways."—Marcus Rediker, author of The Slave Ship

"A profound look at why Latinos have replaced African American baseball players, helping the reader understand the game as a business. Definitely a must-read for those who love the game, regardless of origin, race, or ethnicity."—Juan Marichal, MLB Hall of Famer

"Some are well-versed when it comes to the Negro Leagues. Others are aficionados about the rise of Latinos in baseball. But Rob Ruck is one of the few writers who can be called an expert in both fields. Perceptive and insightful, Raceball is a pleasure to read."—Tim Wendel, author of The New Face of Baseball and High Heat

"One of our greatest historians of sport has given us a gift for the ages: a history of baseball that captures its multicultural dynamics in original and profoundly illuminating ways. Synthesizing a lifetime of pathbreaking research, Raceball presents a brilliant new account—in black, white, and brown—of what can no longer be regarded as merely the national game."—Marcus Rediker, author of The Slave Ship