Dreamers: An Immigrant Generation's Fight for Their American Dream (Paperback)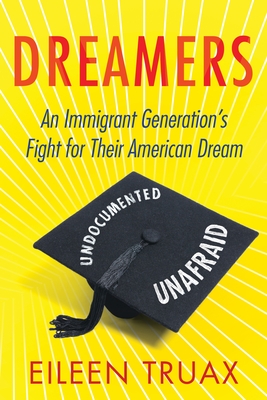 Description
---
Dreamers is a movement book for the generation brought to the United States as children—and now fighting to live here legally
 
Of the approximately twelve million undocumented immigrants living in the United States, as many as two million came as children. They grow up here, going to elementary, middle, and high school, and then the country they call home won't—in most states—offer financial aid for college and they're unable to be legally employed. In 2001, US senator Dick Durbin introduced the DREAM Act to Congress, an initiative that would allow these young people to become legal residents if they met certain requirements.
 
And now, more than ten years later, in the face of congressional inertia and furious opposition from some, the DREAM Act has yet to be passed. But recently, this young generation has begun organizing, and with their rallying cry "Undocumented, Unapologetic, and Unafraid" they are the newest face of the human rights movement. In Dreamers, Eileen Truax illuminates the stories of these men and women who are living proof of a complex and sometimes hidden political reality that calls into question what it truly means to be American.
About the Author
---
Eileen Truax is a Mexican journalist specializing in migration and politics. She contributes regularly to Al Día News and the Spanish-language versions of the New York Times, Newsweek, and Vice. Truax often speaks at colleges and universities about the Dreamer movement and immigration. Her current project explores the lives of immigrant youth in Spain. Truax is also the author of two forthcoming books in 2018: How Does It Feel to Be Unwanted? and We Built the Wall. She lives in Los Angeles.
Praise For…
---
"Compelling, honest, and personal, this is a  must-read for anyone interested in the immigration debate."
—Booklist

"A forthright, moving piece of advocacy journalism."
—Kirkus Reviews

"Truax succeeds in conveying how a shadow status permeates the lives of all the young people profiled here, with education, employment opportunities, and essential social services severely limited or unavailable."
—Publishers Weekly

"Truax's informative, engaging read provides a new perspective on this country's ongoing immigration debate."
—Library Journal

"Eileen Truax offers a gripping, close-up account of the lives of Dreamers—those young undocumented people who President Obama argued are American 'in every single way but one: on paper.' Through in-depth interviews and participation in their organizations and events, Truax captures the Dreamers' passions and hopes, as well as the heartbreaking challenges that our country's policies impose on them. She also paints a convincing portrait of the painstaking work and heady successes of one of the country's most important movements for social change in the twenty-first century."
—Aviva Chomsky, author of Undocumented: How Immigration Became Illegal