Young Fu of the Upper Yangtze (Hardcover)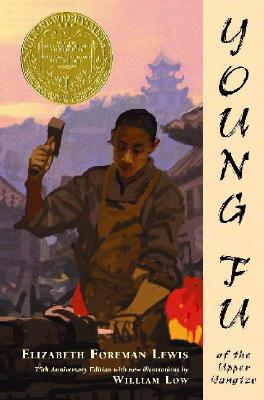 Description
---
A classic Newbery Award winner, with an introduction by Katherine Paterson and new illustrations
When Young Fu arrives with his mother in bustling 1920s Chungking, all he has seen of the world is the rural farming village where he has grown up. He knows nothing of city life. But the city, with its wonders and dangers, fascinates the thirteen-year-old boy, and he sets out to make the best of what it has to offer him.
First published in 1932, "Young Fu of the Upper Yangtze" was one of the earliest Newbery Medal winners. Although China has changed since that time, Young Fu's experiences, like making friends, are timeless.
About the Author
---
Elizabeth Foreman Lewis (d. 1958) went to China in 1917 where she studied the Chinese language and history, and held teaching posts in Shanghai, Chungking, and Nanking. was her first book.William Low is the author and illustrator of "Chinatown" and "Old Penn Station," as well as a four-time Silver Medal winner at the Society of Illustrators.
Praise For…
---
"It is a story full of adventure that I believe you will enjoy as much as I did. Young Fu won the Newbery Medal, not only because it was historically and culturally accurate, but because it was and is a really good read."—Katherine Paterson, Newbery Award-winning author of Bridge to Terabithia and Jacob Have I Loved