Circling the Sun: A Novel (Large Print / Paperback)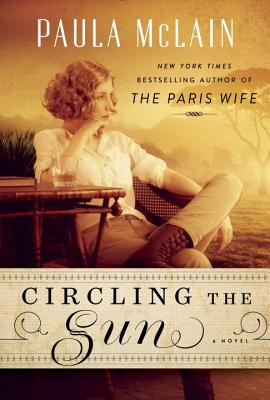 August 2015 Indie Next List
---
"Reading Circling the Sun reminded me of the deep pleasure of solid storytelling: the vast landscape of colonial Kenya, complicated and compelling historical characters, love, suffering, and adventure combine to create a captivating narrative. McLain imagines the African childhood and early adulthood of real-life horse trainer and pioneering female aviator, Beryl Markham, as well as her social milieu which included Denys Finch Hatton and Karen Blixen, who, as Isak Dinesen, wrote Out of Africa. Markham lived a fascinating and uncompromising life filled with danger, ill-fated romance, and stunning bravery, and McLain does justice to her memory with this sensitive and beautifully written portrayal."
— Rhianna Walton (W), Powell's Books, Inc, Portland, OR
Description
---
NEW YORK TIMES BESTSELLER • NAMED ONE OF THE BEST BOOKS OF THE YEAR BY NPR, BOOKPAGE, AND SHELF AWARENESS • "Paula McLain is considered the new star of historical fiction, and for good reason. Fans of The Paris Wife will be captivated by Circling the Sun, which . . . is both beautifully written and utterly engrossing."—Ann Patchett, Country Living

Paula McLain, author of the phenomenal bestseller The Paris Wife, now returns with her keenly anticipated new novel, transporting readers to colonial Kenya in the 1920s. Circling the Sun brings to life a fearless and captivating woman—Beryl Markham, a record-setting aviator caught up in a passionate love triangle with safari hunter Denys Finch Hatton and Karen Blixen, who as Isak Dinesen wrote the classic memoir Out of Africa.

Brought to Kenya from England as a child and then abandoned by her mother, Beryl is raised by both her father and the native Kipsigis tribe who share his estate. Her unconventional upbringing transforms Beryl into a bold young woman with a fierce love of all things wild and an inherent understanding of nature's delicate balance. But even the wild child must grow up, and when everything Beryl knows and trusts dissolves, she is catapulted into a string of disastrous relationships.

Beryl forges her own path as a horse trainer, and her uncommon style attracts the eye of the Happy Valley set, a decadent, bohemian community of European expats who also live and love by their own set of rules. But it's the ruggedly charismatic Denys Finch Hatton who ultimately helps Beryl navigate the uncharted territory of her own heart. The intensity of their love reveals Beryl's truest self and her fate: to fly.

Set against the majestic landscape of early-twentieth-century Africa, McLain's powerful tale reveals the extraordinary adventures of a woman before her time, the exhilaration of freedom and its cost, and the tenacity of the human spirit.

Praise for Circling the Sun

"In McLain's confident hands, Beryl Markham crackles to life, and we readers truly understand what made a woman so far ahead of her time believe she had the power to soar."—Jodi Picoult, author of Leaving Time

"Enchanting . . . a worthy heir to [Isak] Dinesen . . . Like Africa as it's so gorgeously depicted here, this novel will never let you go."—The Boston Globe

"Famed aviator Beryl Markham is a novelist's dream. . . . [A] wonderful portrait of a complex woman who lived—defiantly—on her own terms."—People (Book of the Week)

"Circling the Sun soars."—Newsday

"Captivating . . . [an] irresistible novel."—The Seattle Times

"Like its high-flying subject, Circling the Sun is audacious and glamorous and hard not to be drawn in by. Beryl Markham may have married more than once, but she was nobody's wife."—Entertainment Weekly

"[An] eloquent evocation of Beryl's daring life."—O: The Oprah Magazine

"Markham's life is the stuff of legend. . . . McLain has created a voice that is lush and intricate to evoke a character who is enviably brave and independent."—NPR

"Bold, absorbing fiction."—New York Daily News

"Paula McLain has such a gift for bringing characters to life. I loved discovering the singular Beryl Markham, with all her strengths and passions and complexities."—Jojo Moyes, author of Me Before You
From the Hardcover edition.
About the Author
---
Paula McLain is the New York Times bestselling author of the novels Circling the Sun, The Paris Wife, and A Ticket to Ride, the memoir Like Family: Growing Up in Other People's Houses, and two collections of poetry. Her writing has appeared in The New York Times, Good Housekeeping, O: The Oprah Magazine, Town & Country, The Guardian, The Huffington Post, and elsewhere. She lives in Ohio with her family.
Praise For…
---
"Paula McLain is considered the new star of historical fiction, and for good reason. Fans of The Paris Wife will be captivated by Circling the Sun, which . . . is both beautifully written and utterly engrossing."—Ann Patchett, Country Living
 
"Paula McLain cements herself as the writer of historical fictional memoir with Circling the Sun, giving vivid voice to Beryl Markham, a singular, extraordinary woman. In McLain's confident hands, Markham crackles to life, and we readers truly understand what made a woman so far ahead of her time believe she had the power to soar."—Jodi Picoult, author of Leaving Time
 
"Enchanting . . . A worthy heir to [Isak] Dinesen, McLain will keep you from eating, sleeping, or checking your e-mail—though you might put these pages down just long enough to order airplane tickets to Nairobi. . . . What's certain is that the reluctantly earthbound armchair reader will cherish this gift for the hidden adventurer in all of us. Like Africa as it's so gorgeously depicted here, this novel will never let you go."—The Boston Globe
 
"Famed aviator Beryl Markham is a novelist's dream. . . . [A] wonderful portrait of a complex woman who lived—defiantly—on her own terms."—People (Book of the Week)

"Circling the Sun soars."—Newsday

"Captivating . . . [an] irresistible novel."—The Seattle Times

"Like its high-flying subject, Circling the Sun is audacious and glamorous and hard not to be drawn in by. Beryl Markham may have married more than once, but she was nobody's wife."—Entertainment Weekly
 
"[An] eloquent evocation of Beryl's daring life."—O: The Oprah Magazine

"Richly textured . . . Markham's life is the stuff of legend. . . . McLain has created a voice that is lush and intricate to evoke a character who is enviably brave and independent."—NPR
 
"Bold, absorbing fiction."—New York Daily News

"Paula McLain has such a gift for bringing characters to life. I loved discovering the singular Beryl Markham, with all her strengths and passions and complexities, a woman who persistently broke the rules, despite the personal cost. She's a rebel in her own time, and a heroine for ours."—Jojo Moyes, author of Me Before You

"By the last pages, readers will hate to say goodbye to such an irresistible narrator."—Miami Herald
 
"Paula McLain brings Beryl to glorious life, portraying a woman with a great many flaws that seem to result from her zest for life and inability to follow the roles expected of women in the 1920s and '30s."—St. Louis Post-Dispatch
 
"Amelia Earhart gets all the airtime, but this pilot had the juicier past. . . . McLain crafts a story readers won't soon forget."—Good Housekeeping
 
"With a sharp eye for detail and style to spare, Paula McLain captures the nuances of complex relationships, the rigidity of social conventions, and the wide skies and breathtaking vistas of Africa."—Christina Baker Kline, author of Orphan Train
 
"Set in 1920s Kenya, this fictionalized history of the beautiful, high-flying aviator Beryl Markham is as luminous as its headstrong heroine. An exhilarating ride."—Family Circle

"Paula McLain is yet another twenty-first-century woman who can write rings around the hyper-masculine men who dominate so much of American fiction."—Liz Smith
 
"McLain's skill at blending fact and fiction, which dazzled readers in The Paris Wife, is on full display. . . . Circling the Sun is a masterful story of hardship, courage and love."—Shelf Awareness
From the Hardcover edition.