Willimena Rules: 23 Ways to Mess Up Valentine's Day - Book #5 (Paperback)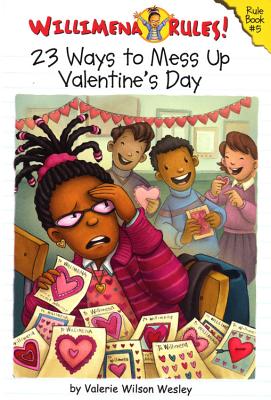 $3.99
Email or call for price.
Description
---
After being held prisoner for years, Artemis Fowl's father has finally come home. He is a new man-an honest man, much to Artemis's horror. He makes his son promise to give up his life of crime, and Artemis has to go along with it. But not until he has completed one last scheme. Artemis has constructed a super-computer from stolen fairy technology. Called the "C Cube," it will render all existing human technology obsolete. He arranges a meeting with a powerful Chicago businessman, Jon Spiro, to broker a deal for the C Cube. But Spiro springs a trap-he steals the C Cube and mortally injures Butler. Artemis knows his only hope of saving his loyal bodyguard is to employ fairy magic; so once again he must contact his old rival, Captain Holly Short of the LEPrecon fairy police. It is going to take a miracle to save Butler, and Artemis's luck may have just run out.
About the Author
---
Valerie Wilson Wesley is the author of the Tamara Hayle mystery series for adults. She is also the author of Ain't Nobody's Business If I Do, for which she received the 2000 Black Caucus Literature Award in adult fiction from the American Library Association. Ms. Wesley's children's books include Freedom's Gifts: A Juneteenth Story, and she is the coauthor of the Afro-bets Book of Black Heroes with Wade Hudson. Ms. Wesley lives in New Jersey with her husband, screenwriter and playwright Richard Wesley, and has two grown daughters.

Maryn Roos was always better at drawing ballerinas than being one. Beyond ballerinas, she has drawn everything from monsters to dancing ducks in dozens of books and several educational software programs, most recently for "Imagine Learning English." Maryn lives and draws, and very rarely dances, in Provo, Utah.