Pacifica (Paperback)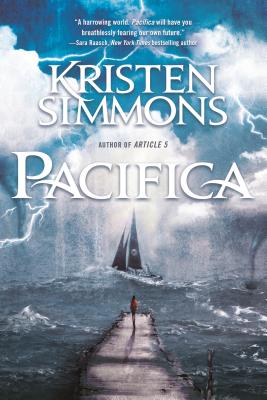 $9.99
Email or call for price.
Description
---
Kristen Simmons, critically acclaimed author of Article 5 and Metaltown, brings her trademark action, romance, and frightening prescience to Pacifica, a science fiction tale of high seas adventure.

Blue skies. Green grass. Clear ocean water. An island paradise like the ones that existed before the Melt.

A lucky five hundred lottery winners will be the first to go, the first to leave their polluted, dilapidated homes behind and start a new life. It sounds perfect. Like a dream.

The only problem? Marin Carey spent her childhood on those seas and knows there's no island paradise out there. She's corsario royalty, a pirate like her father and his father before him, and she knows a con when she sees one. So where are the First Five Hundred really going?

"A harrowing world. Pacifica will have you breathlessly fearing our own future."—New York Times bestselling author Sara Raasch

"A bleak, futuristic world that's utterly believable and terrifying, and yet from out of it springs the greatest of hope, carried on the back of its fierce main characters. I was swept away."—Mindee Arnett, author of Avalon
About the Author
---
Critically-acclaimed young adult author of more than a dozen books, including the Article Five trilogy, The Deceivers series, and The Glass Arrow, KRISTEN SIMMONS' writing is inspired by her work with trauma survivors as a mental health therapist. She currently lives with her husband and son in Cincinnati, Ohio, where she spins stories, herds a small pack of semi-wild dogs, and teaches Jazzercise. To learn more, join her circle on IG at @Kris10Writes, or at her website & newsletter at KristenSimmonsBooks.com.
Praise For…
---
"A harrowing world where overpopulation is rampant and pollution stifling. The characters creep into your heart with raw, familiar issues of love, friendship, and family ties, careening you on a plot fraught with just as many twists as there are pieces of trash in the ocean. Pacifica will have you breathlessly fearing our own future."—New York Times bestselling author Sara Raasch

"Like The Handmaid's Tale, Simmons's book serves as essential commentary on women's rights."—Cosmopolitan.com on The Glass Arrow

"I'm clutching my mangled heart and smiling madly, so it's that kind of book. Such gorgeous heartbreak! Smart, absorbing, and deeply human."—New York Times bestselling author Laini Taylor on Metaltown

"A compelling, inspiring read. The characters had me rooting for rebels, fights worth fighting, and girls with gumption. By the time it was over, I had my fist in the air."—New York Times bestselling author Kendare Blake on Metaltown

"Simmons (Article 5, 2012; Metaltown, 2016) excels at dystopian fiction, and her admirable latest takes to the sea. …A breathtaking story full of high-seas adventure, power struggles, romance, betrayal, and more... Simmons' great-grandmother was taken to a Japanese internment camp during WWII, and her experiences influence those of Marin and the pirates. ...Non-stop action and surprises will keep readers enthralled through both rough waters and smooth sailing alike."—Booklist, starred