Egyptian Diary: The Journal of Nakht (Paperback)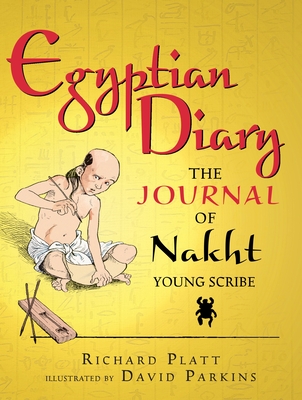 $6.99

Usually Ships in 1-5 Days
Description
---
"A fresh, lively voice. . . . Replete with details of daily life." — Kirkus Reviews

The year is 1464 BC, and Nakht's family is moving to the city of Memphis. Nakht, who is studying to be a scribe, keeps a journal of the many sights and sounds of the bustling city — temples and pyramids, cargo ships, a hippopotamus hunt, even a tomb robbery. Presented as a lively diary, here is an invitation for readers to witness firsthand what life was like for one boy in Egypt 3,500 years ago.
About the Author
---
RICHARD PLATT has written more than forty nonfiction books for children. Ever since he first saw the leathery face of a mummy in the British museum, ancient Egypt has fascinated him. EGYPTIAN DIARY: THE JOURNAL OF NAKHT is his third book in the colorful series that includes CASTLE DIARY and the Kate Greenaway Medal winner PIRATE DIARY (both illustrated by Chris Riddell). Richard Platt lives in Kent, England.

DAVID PARKINS has illustrated numerous books for children, including WEBSTER J. DUCK, written by Martin Waddell. About EGYPTIAN DIARY, he says, "It can be difficult to make the leap of imagination from the highly stylized Egyptian paintings we see in museums to what daily life was really like. My job was to take these characters and make them believable, to give them expression and personality, and to bring their world to life." David Parkins lives in Lincoln, England.