I Want My Hat Back (Hardcover)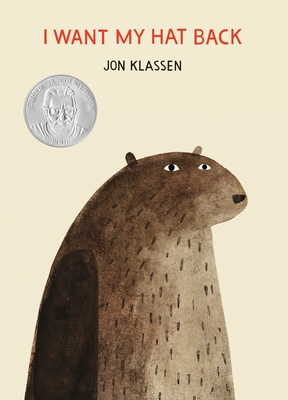 $17.99
Usually Ships in 1-5 Days
Staff Reviews
---
Caldecott Award winning author Jon Klassen's fantastic I Want My Hat Back is truly an instant classic. A bear who has lost his hat and wants it back is going around the forest, asking the other animals if they have seen it. Told only through dialogue and Klassen's delightful illustrations, I Want My Hat Back is a must read for any and all picture book lovers.
— Thomas
Description
---
A New York Times Best Illustrated Children's Book of 2011!

A picture-book delight by a rising talent tells a cumulative tale with a mischievous twist.

The bear's hat is gone, and he wants it back. Patiently and politely, he asks the animals he comes across, one by one, whether they have seen it. Each animal says no, some more elaborately than others. But just as the bear begins to despond, a deer comes by and asks a simple question that sparks the bear's memory and renews his search with a vengeance. Told completely in dialogue, this delicious take on the classic repetitive tale plays out in sly illustrations laced with visual humor — and winks at the reader with a wry irreverence that will have kids of all ages thrilled to be in on the joke.
About the Author
---
Jon Klassen created illustrations for the popular series The Incorrigible Children of Ashton Place and served as an illustrator on the animated feature film Coraline. His illustrations for Caroline Stutson's Cats Night Out won the Governor General Award in 2010. I Want My Hat Back is the first book he has both written and illustrated. Originally from Niagara Falls, Canada, he lives in Los Angeles.
Praise For…
---
A marvelous book in the true dictionary sense of "marvel": it is a wonderful and astonishing thing, the kind of book that makes child laugh and adult chuckle, and both smile in appreciation. A charmingly wicked little book.
—The New York Times

Deliberately understated, with delectable results… Skillful characterizations; though they're simply drawn and have little to say, each animal emerges fully realized.
—Publishers Weekly (starred review)

Read aloud, this story will offer many sublime insights into how young readers comprehend an illustrated text that leaves out vital information, and will leave young sleuths reeling with theories about what just happened.
—School Library Journal

Klassen's animation and design skills are evident on every page in this sly, subversive tale... Adults and older children will chuckle mordantly at rabbit's sudden disappearance, while young children might actually wonder, with Squirrel, where the rabbit has gone.
—The Horn Book

Indubitably hip, this will find plenty of admirers.
—Kirkus Reviews

You know, bears may stand for adults in some way, because they're big, they're ungainly, they're goofy. They're like most of us grownups. But the bear in this book paws down; he's got to be the dimmest, most slow-witted, brilliantly stupid bear to come along in years. I really love him.
—NPR Weekend Edition

Four pages into this charmer, every kindergartner will know where the bear's missing hat is — but they'll never predict the hilarious revenge he takes on the thief.
—People Magazine

A sly picture book...Young readers and listeners will love being in on the joke, making them appreciate the story's humor even more.
—BookPage

The joy of this book lies in figuring out the explicit plot from the implicit details in the pictures, especially a few wordless ones.
—Chicago Tribune

A coterie of woodland animals is drawn in a minimalistic style and a palette of browns with a splash of red. The dialogue is simple and sly.
—The Boston Globe

This is a familiar picture-book formula with a twist, and the minimalist style Klassen employs with both text and art only emphasizes the humor of the situation....While these design choices and the simplicity and pattern of the text would make this a good choice for beginning readers, it would also make an amusing readaloud or a great little readers' theater piece.
—Bulletin of the Center for Children's Books

Read I Want My Hat Back by Jon Klassen. It's the most subtle endorsement of murder you'll ever find.
—GQ.com

This is a must-have for any primary or even intermediate classroom. It's about inference and being a good reader.
—Huffington Post
Coverage from NPR