Stink and the Incredible Super-Galactic Jawbreaker (Book #2) (Paperback)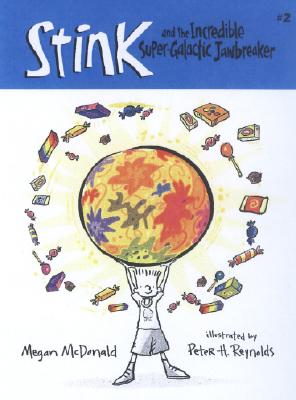 $4.99
Email or call for price.
Description
---
"Like big sister Judy, Stink sports a talent for self-expression. . . . The quick-witted dialogue will keep readers entertained." — BOOKLIST

When Stink buys a huge jawbreaker that doesn't break his jaw, he writes to the manufacturer — and receives 21,280 jawbreakers for his trouble! Soon he's so obsessed with getting free stuff that he misses an envelope in the mail pile, until his best friend starts looking as mad as a hornet. Thirty-six idioms are sprinkled through the story, inspiring a search that's more fun than a barrel of monkeys.
About the Author
---
MEGAN MCDONALD is the author of STINK: THE INCREDIBLE SHRINKING KID, as well as the best-selling, award-winning series about Stink's older sister, Judy Moody. She says, "Not long ago, I happened upon two kids in the candy section of my local grocery store who were in rapture over the almost snowball-size jawbreakers they'd discovered in a bin. I held up one of the tiny globes, a confetti-flecked miniature world unto itself. I knew immediately that Stink would have to have one . . . so I bought one myself, for inspiration. I like to think of it as research!"

PETER H. REYNOLDS is the illustrator of Stink's series debut, as well as all the Judy Moody books. He says, "My childhood was a bit Stink-ish. I craved candy - especially chocolate - after reading CHARLIE AND THE CHOCOLATE FACTORY. So much so that I wrote to the Hershey chocolate company, and they sent me a packet of information, posters, and sample cacao beans!"