Late Essays: 2006-2017 (Paperback)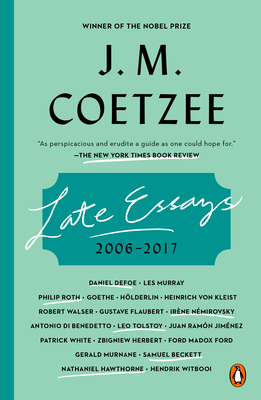 $17.00
Email or call for price.
Description
---
A new collection of twenty-three literary essays from the Nobel Prize–winning author. J. M. Coetzee's latest novel, The Schooldays of Jesus, is now available from Viking.

J. M. Coetzee is not only one of the most acclaimed fiction writers in the world, he is also an accomplished and insightful literary critic. In Late Essays: 2006–2016, a thought-provoking collection of twenty-three pieces, he examines the work of some of the world's greatest writers, from Daniel Defoe in the early eighteenth century to Goethe and Irène Némirovsky to Coetzee's contemporary Philip Roth. Challenging yet accessible, literary master Coetzee writes these essays with great clarity and precision, offering readers an illuminating and wise analysis of a remarkable list of works of international literature that span three centuries.
About the Author
---
J. M. Coetzee won the Nobel Prize in Literature in 2003 and is the author of twenty-two books, which have been translated into many languages. He was the first author to twice win the Booker Prize. A native of South Africa, he now lives in Adelaide, Australia.
Praise For…
---
"Coetzee is as perspicacious and erudite a guide as on could hope for. His biographical sketches of the life and times of the authors he addresses are excellent, concretely informative while also marbled with interesting tidbits . . . What can't be found anywhere else, where Coetzee is unparalleled, is his ability to capture the psychology of individual characters, to lay bare the inner working of their minds, and in doing so bring to light the source of their enduring interest to readers."—New York Times Book Review

"Coetzee's many strong and provocative essays, along with the clarity of his writing and the literary biographies he weaves into his analyses, make this in general a worthwhile work of literary criticism."—Publishers Weekly

"Coetzee again demonstrates his range and precision as a literary critic and his gift for rendering challenging material accessible."—Booklist (starred)

"As pages turn, one becomes increasingly drawn in by Coetzee's insights–subtly interconnected, ever elucidating."—BookPage

"With wondering intelligence and a deep understanding of history, Nobel Laureate J.M. Coetzee (Disgrace) tackles literary classics and lesser-known works in Late Essays . . . By focusing the mysterious inspirations of so many luminary authors, Coetzee has made his Late Essays into a vibrant and inquisitive work of literary criticism."—Shelf Awareness

"His critiques are constructive and instructive. Above all they do what all good literary essays should do: They encourage us to read and reread, to appreciate anew and newly discover."—The Weekly Standard

"Coetzee is unparalleled in his ability to penetrate the philosophical and psychological mysteries in a work of art. This will appeal to scholars and readers of serious fiction."—Library Journal

"Nobel and Booker Prize winner Coetzee (The Schooldays of Jesus, 2017, etc.) offers another collection of reflective and erudite essays on a variety of poets and novelists . . . Thought-provoking essays that offer more than mere opinion, as the author plumbs the writers' philosophical and psychological depths."—Kirkus Review

Praise for J. M. Coetzee

"Coetzee is that rare breed, an academic who is also a world-class writer, and this latest collection is informed as much by the novelist's keen eye as it is by the theorists obsessions." —The New York Times Book Review

"[Coetzee] is probably the only Nobel laureate to write so extensively about his peers . . . and he is happily unrestrained by mere collegiality." —New York Sun