You're On Mute: 101 Tips to Add Zip to your Zoom (Paperback)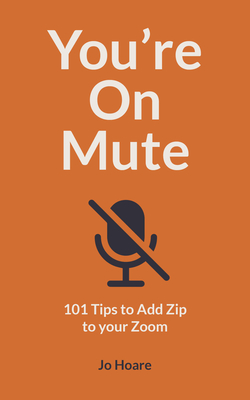 $9.99
Usually Ships in 1-5 Days
Description
---
With 101 tips explaining the dos and don'ts of virtual meetings, delivered with abundant humor, You're On Mute will help you master video calls in "the new normal."If life on Zoom is getting you down
and you're dreading the next inevitable invite to a Teams meeting, don't panic, help is at hand. Whether you need to stop doing that weird wave at the end of meetings or want to break the habit of being transfixed by your own face in the corner of the screen,
the fun advice inside this book has got you covered
.
Advice includes:
Mastering online etiquette—from the right way to say hello to the right time to hang up
How to make multi-generational family video calls workable for both grandparents and children ("You're still on mute, grandma!")
Ensuring your next video quiz is an entertaining test of knowledge rather than a painful test of endurance
Best practices for work-related video calls, from being sensitive to camera-shy coworkers to the ideal backdrop for a job interview
Successfully navigating an online romance, covering first dates to long-term relationships
Avoiding the "must not dos" of video calls, whether it's the serious matter of security or the shame of surprise screen sharing
In no time you'll be living your best life online, bringing your A game to any virtual work meeting, catch-up with family, quiz with friends, online date, and more.
Praise For…
---
Hoare's 96-page book gives you assorted dos and don'ts of virtual meetings. This info applies whether it is for a virtual Hanukkah, a work meeting, a general social gathering or even an online date.
- Jewish Journal
—
-