The Complete History of Why I Hate Her (Hardcover)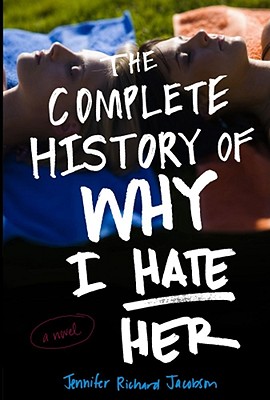 $16.99
Email or call for price.
Description
---
Nola wants nothing more than a summer on her own--and a job at an upscale Maine coast resort sounds ideal. Waitressing three meals a day, but lots of beach time in between, some freedom from her big-sister role to Song, who is undergoing chemo back home in Massachusetts, the chance to make some friends. Enter Carly, the perfect pal, full of jokes, ideas, energy—and experienced at being away from her mysterious family. But Carly is much more complicated than the usual summer buddy—a border-line personality who can turn on Nola in a flash, who can make "love" a rivalry, something that, even at a distance, Song becomes ensnared in. Here is a dramatic look at a girl/girl teen dynamic. To say nothing of boys.
About the Author
---
Jennifer Richard Jacobson grew up in a family of storytellers. "My brothers," she says, "had the ability to make us laugh until our bellies hurt. I wasn't as hilarious, but I learned how to take the mishaps in life (especially the embarrassments) and turn them into a dramatic story." Jennifer is the author of the middle grade novels Paper Things and Small as an Elephant, and the Andy Shane picture book series, among others. She lives in Maine with her husband and Jack Russell terrier. Visit her at JenniferJacobson.com.