New Rome: The Empire in the East (History of the Ancient World) (Paperback)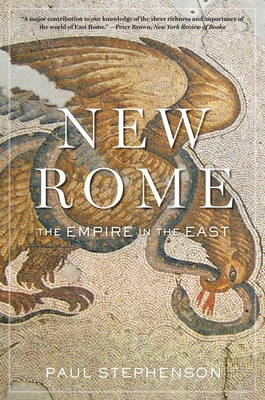 We are sorry we cannot fulfill order. Please check out BOOKSHOP.ORG and choose Penguin Bookshop as your store of choice
Description
---
A Times of London Book of the Year
Longlisted for the Runciman Award
"The most compelling fusion yet of narrative history with the recent findings of environmental research and scientific data. It will change the way we understand key events and transformations in the Eastern Empire."--Anthony Kaldellis, author of
Romanland
" A] major contribution...Brings the world of New Rome alive with exceptional learning and a magnificent openness to modern scientific methods that breathe life into conventional narratives of political and social history."--Peter Brown,
New York Review of Books
"A sweeping survey of the disintegration of the western Roman empire and the emergence of Byzantium...This impressive chronicle offers an eye-opening perspective on a period of dramatic change."--
Publishers Weekly
Long before Rome fell to the Ostrogoths in 476 AD, a new city had risen to take its place as the beating heart of the empire, the glittering Constantinople, known as New Rome. In this strikingly original account of the collapse of the Western Roman Empire and emergence of Byzantium, Paul Stephenson offers a new interpretation of the forces that coalesced--dynastic, religious, climactic--to shift the center of power to the east. His novel, scientifically minded interpretation of antiquity's end presents evidence found not only in parchments and personalities, but also in ice cores and DNA. From 395 to 700 AD, the empire in the east was subjected to a series of invasions and pandemics, confronting natural disasters and outbreaks in pathogens previously unknown to the empire's densely populated, unsanitary cities. Politics, war, and religious strife sparked by the rise of Islam drove the transformation of Eastern Rome, but they do not tell the whole story. Deftly braiding the political history of the empire together with its material, environmental, and epidemiological history,
New Rome
offers a surprising new explanation of why Rome fell and how the Eastern Empire became Byzantium.