The Hungry Tide: A Novel (Paperback)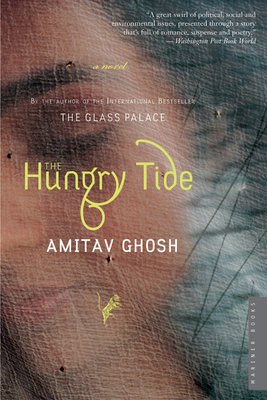 $16.99

Usually Ships in 1-5 Days
Description
---
The Hungry Tide is a very contemporary story of adventure and unlikely love, identity, and history, set in one of the most fascinating regions on the earth. Off the easternmost coast of India, in the Bay of Bengal, lies the immense labyrinth of tiny islands known as the Sundarbans. For settlers here, life is extremely precarious. Attacks by deadly tigers are common. Unrest and eviction are constant threats. Without warning, at any time, tidal floods rise and surge over the land, leaving devastation in their wake.

In this place of vengeful beauty, the lives of three people from different worlds collide. Piya Roy is a young marine biologist, of Indian descent but stubbornly American, in search of a rare, endangered river dolphin. Her journey begins with a disaster, when she is thrown from a boat into crocodile-infested waters. Rescue comes in the form of a young, illiterate fisherman, Fokir. Although they have no language between them, Piya and Fokir are powerfully drawn to each other, sharing an uncanny instinct for the ways of the sea. Piya engages Fokir to help with her research and finds a translator in Kanai Dutt, a businessman from Delhi whose idealistic aunt and uncle are longtime settlers in the Sundarbans. As the three of them launch into the elaborate backwaters, they are drawn unawares into the hidden undercurrents of this isolated world, where political turmoil exacts a personal toll that is every bit as powerful as the ravaging tide.

Already an international success, The Hungry Tide is a prophetic novel of remarkable insight, beauty, and humanity.
About the Author
---
Amitav Ghosh was born in Calcutta in 1956 and raised and educated in Bangladesh, Sri Lanka, Iran, Egypt, India, and the United Kingdom, where he received his Ph.D. in social anthropology from Oxford. Acclaimed for fiction, travel writing, and journalism, his books include The Circle of Reason, The Shadow Lines, In an Antique Land, and Dancing in Cambodia. Ghosh has won France's Prix Medici Etranger, India's prestigious Sahitya Akademi Award, the Arthur C. Clarke Award, and the Pushcart Prize. He now divides his time between Harvard University, where he is a visiting professor, and his homes in India and Brooklyn, New York.
Praise For…
---
"One doesn't so much read Ghosh's masterful fifth novel as inhabit his characters and the alluring if treacherous Sundarban archipelago...a lush backdrop for an intricate narrative." Publishers Weekly, Starred

"...lovingly and fanatically and even beautifully about a place...[Ghosh] has created a large, colorful story and a voluptuous world into which we gratefully disappear." O, The Oprah Magazine

"The Hungry Tide is a great swirl of political, social, and environmental issures, presented through a story that's full of romance, suspense, and poetry." The Washington Post

"Ghosh not only infuses great energy and spirit into an engrossing tale of caste and culture, he deftly introduces readers to a little-known world and makes it familiar." (Editor's Choice) Entertainment Weekly

"Amitav Ghosh tops my list of authors I wish readers everywhere would get to know better." Seattle Times/Post-Intelligencer

"A fascinating tapestry." Kirkus Reviews