Fahrenheit 9-12: Rebuttal to Fahrenheit 9/11 (Paperback)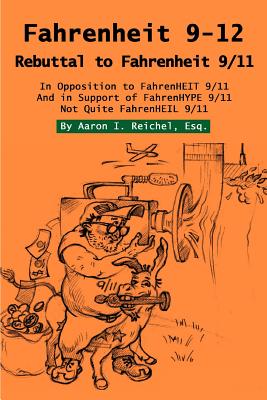 $15.95

Usually Ships in 1-5 Days
Description
---
The film
Fahrenheit 9/11
convinces nearly all who see it--and believe it--that George Bush was unfit to lead on 9/11 and beyond.
Fahrenheit 9-12
--this book--convinces nearly all who read it that a review of the sources of virtually every frame and every claim in the film reveals that virtually everything in
Fahrenheit 9/11
is arguably misleading or inaccurate. Fahrenheit 9-12 is not for everyone--it is just for those intellectually honest people who hate President Bush, as well as for those who do not. The Bush-bashers are doomed to four years of misery and frustration unless the distortions on which they base their bashes will be exposed to them.
Fahrenheit 9-12
brings relief to those who have taken Michael Moore's criticisms of President Bush to heart, and who have suffered heartache or heartburn ever since.
Many people who do not hate President Bush will be relieved and reinvigorated once they discover the lack of merit of most of the film's assaults on Bush's character, intelligence, and judgment. Readers who saw or boycotted Moore's film can appreciate Reichel's rebuttals enough to want to show his book to--or buy copies for--friends, colleagues, team-mates, teachers, students, and/or relatives who believe that Fahrenheit 9/11--the film--deserves even a fraction of the respect, acclaim and/or popularity it has received, thereby reducing tension in many personal or even professional relationships. Fahrenheit 9-12--this book--replaces ad hominem discord with rational discourse.