Breathing Through Grief: A Devotional Journal for Seasons of Loss (Paperback)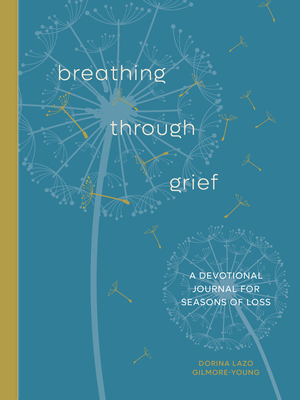 $17.00

Usually Ships in 1-5 Days
Description
---
Reflect on your unique path through grief with this guided journal, featuring compassionate resources, short devotionals, and heartfelt essays from the perspective of a woman who has walked her own journey of loss.

After the sudden loss of her husband, Dorina Lazo Gilmore-Young felt lost in her grief. With Breathing Through Grief, she provides a comforting, giftable resource for those who are processing their own loss, whether of a loved one, a season of life, or a dream. In addition to the twenty-five short devotionals that each focus on a different aspect of grief from Dorina's personal experience, the journal includes special resources such as breathing exercises, reflection questions, soul care tips, ample writing space, advice on how to talk to children about death, suggestions on how to approach triggers, and creative ways to honor a loved one's memory.

If you or someone close to you is walking through loss⁠, let the comforting words in Breathing Through Grief encourage you with the knowledge that you are not alone and bring you a semblance of peace as you continue forward on the road to healing.
About the Author
---
Dorina Lazo Gilmore-Young is a writer, speaker, teacher, and former journalist. As the founder of the Widow Mama Collective grief support group on Facebook, she is passionate about helping people navigate grief and discover God's glory on life's unexpected trails. Her previous books include the award-winning children's book Cora Cooks Pancit, Chasing God's Glory, Walk Run Soar, and Create in Me a Heart of Mercy.

Dorina enjoys meeting God as she runs trails through mountains or near the ocean. She and her husband, Shawn, are raising three daughters in central California.
Praise For…
---
"For thirty years, I've experienced a series of unexpected and traumatic losses. One after the other, they turned my life upside down. It was only through experiencing grief—not avoiding it—that I finally discovered healing and new hope. But I needed friends and guides to walk through it with me. Dorina Gilmore and her book Breathing Through Grief are two such friends. With gentleness, they will hold your hand through a season you never wanted."—Michele Cushatt, author of A Faith That Will Not Fail: 10 Practices to Build Up Your Faith When Your World Is Falling Apart

"Breathing Through Grief is the best devotional journal I've read to help navigate the sorrow of loss with hope. Dorina gives us a beautiful tool, steeped in scripture, to unpack the emotions, struggles, and questions that come in grief. This book would make a meaningful gift for anyone walking through the pain of grief."—Lisa Appelo, author of Life Can Be Good Again: Putting Your World Back Together After It All Falls Apart

"Breathing Through Grief offers a well of serenity in the bewildering desert of crushing loss. Like a bright light in the darkness, it will be a faithful companion not only for grievers but also for those who desire to weep with those who weep and bless all who mourn."—Marcie Alvis Walker, author of Everybody Come Alive

"Breathing Through Grief makes space for grievers to reflect, honor, grieve, and just breathe. With personal stories, biblical insight, relevant scriptures, and prayers, Dorina provides a road map for the journey of grief. With gracious pauses along the way, Breathing Through Grief is a necessary resource for every grieving heart."—Natasha Smith, author of Can You Just Sit with Me? Healthy Grieving for the Losses of Life

 "Breathing Through Grief is a gentle and practical guide for mourners. Dorina writes with the hard-won wisdom of a fellow griever, making space for our sorrow but also for our hope."—Amanda Held Opelt, songwriter and author of A Hole in the World: Finding Hope in Rituals of Grief and Healing

"In Breathing Through Grief, Dorina gently makes room to emotionally and practically sort out the overwhelming pain of loss. When the death of a loved one leaves us feeling unable even to breathe, this book points us straight back to our very Breath of Life."—Danita Jenae, author of When Mountains Crumble: Rebuilding Your Life After Losing Someone You Love

"Breathing Through Grief is beautifully written and incredibly practical. The pages are thoughtfully filled with solid teaching from scripture, space to honestly process, helpful perspective, and, ultimately, hope. I highly recommend this book for anyone who is in a season of loss and for those who may have experienced an especially painful time in the past. The words found in these pages will be a balm for those who are hurting."—Vivian Mabuni, national speaker, podcast host, Bible teacher, and author of Open Hands, Willing Heart