Intuitive Fasting: The Flexible Four-Week Intermittent Fasting Plan to Recharge Your Metabolism and Renew Your Health (Goop Press) (Hardcover)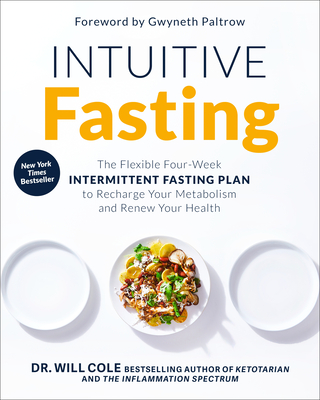 Description
---
NEW YORK TIMES BESTSELLER • "Dr. Will Cole clearly cares about his patients' health, and he addresses the widespread misconceptions about intermittent fasting while giving readers a tailored week-by-week plan to get back in touch with what their body truly needs."—Mark Hyman, MD, director, the Cleveland Clinic Center for Functional Medicine and author of Food
 
"Intuitive Fasting makes both the science and user-friendly application of this exciting approach to human nutrition available for everyone."—David Perlmutter, MD, FACN, author of Grain Brain and Brain Wash

The most effective and achievable guide to intermittent fasting, outlining a unique plan that merges the science behind fasting with a holistic approach to eating, from the bestselling author of Ketotarian and The Inflammation Spectrum

For some, the idea of fasting by eating only one or two meals a day sounds like an extreme and overly restrictive dieting tactic. But the truth is, our daily eating schedule—three meals a day, plus snacks—does not necessarily reflect our bodies' natural cycles. In fact, eating three meals every day can cause metabolic inflexibility, which can lead to inflammation, fatigue, and chronic health problems. For millions of years, our bodies have actually functioned best with periodic times of fasting.

With his fresh new approach to fasting, bestselling author and functional medicine expert Dr. Will Cole gives you the ability to take control of your hunger and make intermittent fasting intuitive. You'll get in touch with your instinctive eating patterns and become healthier and more mindful about how and when you eat. Intuitive Fasting will show you how to find metabolic flexibility—and once you've reached it, you can trust your body to function at optimal capacity, whether you've eaten six minutes ago or six hours ago.

During his 4-Week Flexible Fasting Plan, Dr. Cole will guide you through varying intermittent fasting windows, with each week of the plan tailored to focus on a different aspect of your health. He illustrates the most effective ways to fast and eat to amplify the health benefits of intermittent fasting, balancing rest and repair with clean, nutrient-dense, delicious foods. By the end of the four weeks, you will have all the tools necessary to:

• Reset your body
• Recharge your metabolism
• Renew your cells
• Rebalance your hormones

Along with more than 65 recipes, you'll also find a maintenance plan, so you can adapt fasting and feeding windows to work sustainably with your lifestyle.
About the Author
---
Dr. Will Cole, IFMCP, DNM, DC, is a leading functional medicine expert who consults with people around the world via webcam and locally in Pittsburgh, Pennsylvania. Named one of the top fifty functional-medicine and integrative doctors in the nation, Dr. Cole specializes in clinically investigating underlying factors of chronic disease and customizing a functional medicine approach for thyroid issues, autoimmune conditions, hormonal imbalances, digestive disorders, and brain problems. He is the bestselling author of Ketotarian and The Inflammation Spectrum. Dr. Cole also hosts the popular podcasts goopfellas and The Art of Being Well.
Praise For…
---
"Intuitive Fasting is Will's clear four-week program designed to set you up to feel your best for all the other weeks to come. . . . It's full of what he's learned about reducing inflammation, restoring balance, recharging metabolism, and resetting gut health."—Gwyneth Paltrow, founder and CEO of goop

"Intermittent fasting can be practiced in many ways, but the superior way is to let nature dictate the rules. Fortunately, there are doctors that have tapped into this wisdom. Dr. Will Cole is heading this movement, and this book is the perfect way to get you started."—Alejandro Junger, MD, New York Times bestselling author of Clean Gut

"Dr. Will Cole brings a holistic approach to intermittent fasting. Each week of his plan offers a different health benefit, including weight loss, disease prevention, and hormone rebalancing. Intuitive Fasting is full of new insights, thorough research, and delicious recipes."—Josh Axe, DNM, DC, CNS, bestselling author of Eat Dirt, Keto Diet, and Ancient Remedies

"Intuitive Fasting shows us how to use flexible intermittent fasting to look and feel our best. Wise, warm, and full of top-notch guidance, Dr. Will Cole has been a leading voice in innovative dietary regimens to regain health and maintain wellness."—Jason Fung, MD, bestselling author of The Obesity Code

"If you're looking for a way to recalibrate your body's hunger signals, rebalance your cravings, and comfortably and safely learn how to fast, Intuitive Fasting is a must-read. Dr. Will Cole makes intermittent fasting accessible for everyone, encouraging vibrant health and wellness."—Elle Macpherson

"In Intuitive Fasting, Dr. Will Cole tackles common health issues that stem from our modern eating habits, like chronic inflammation and blood sugar imbalances. His sustainable and customizable fasting plan will help you become metabolically flexible and gives your body a chance to heal itself."—Frank Lipman, MD, New York Times bestselling author of The New Health Rules

"My colleague and friend Dr. Will Cole brilliantly shows us how to intermittent fast to gain metabolic flexibility and calm inflammation."—Terry Wahls, MD, IFMCP, bestselling author of The Wahls Protocol

"Confused about what to eat? So is your body. But it doesn't have to be! Dr. Will Cole's plan brings back metabolic flexibility and recalibrates our relationships with food. I couldn't recommend it more highly!"—Daniel Amen, MD, New York Times bestselling author of Change Your Brain, Change Your Life