The Tiny Chef: and da mishing weshipee blook (Hardcover)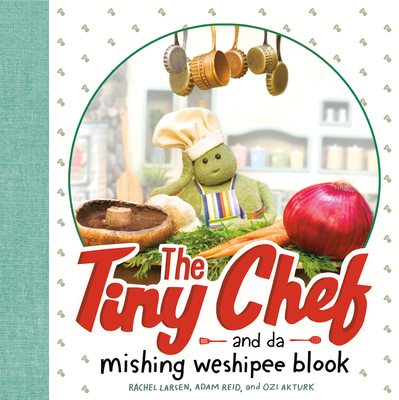 Description
---
The Tiny Chef, a small herbivore with an enormous heart, goes on a quest to find his missing recipe book in this irresistible debut picture book from the creators of @TheTinyChefShow.

Our debut picture book adventure finds the Tiny Chef at home in his kitchen on a beautiful day, but not all is well inside the Chef's stump. He's misplaced his favorite recipe book--the one he uses to cook all of his best dishes, like his famous stew, which he always makes on the first day of fall, and that day is here! What is the Chef to do! He practically tears apart his house looking for it. He gets so frustrated he throws a tantrum. But then he does what we all have to do sometimes when we're upset. He counts to ten. He goes for a nice long walk. And that's when inspiration strikes! A little rosemary, some mushrooms, and the Chef might have a brand-new recipe after all. And that's when his recipe book finally appears. Right where he left it--now isn't that weird?
About the Author
---
RACHEL LARSEN: Some folks are impressed with Rachel's experience as an animator on films like Isle of Dogs, Coraline, or the TV show Robot Chicken...but not the Chef. The Chef loves Rachel (who he calls "Bashel") because she understands him better than anyone. (But maybe don't tell that to Miss Penny).
ADAM REID: Adam's experience as a writer and director only barely prepared him for life working with The Chef. He cofounded the content creation company Bodega Studios and his feature film Hello Lonesome was nominated for a Film Independent Spirit Award. Adam is also counted on for all his nerdy magic with technology like when the Golden Girls won't play on Rachel's phone. Sadly, Adam's wife and two young boys all love the Tiny Chef more than they love him.
OZLEM AKTURK: Ozi makes sure The Chef is seen in his very best light. Her experience on feature films such as Tim Burton's Frankenweenie and Wes Anderson's Isle of Dogs was absolutely meaningless to the Chef until they bonded over their shared passion for travel, skateboarding, and, of course, cooking. The Chef counts on Ozi to think of just the right missing ingredient every time he cooks.