Strangers I Know: A Novel (Paperback)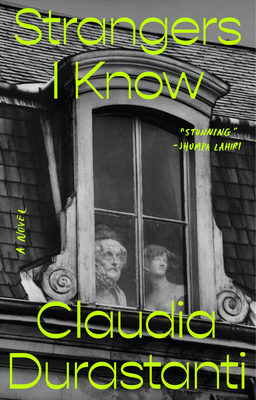 Description
---
"Durastanti casts the universal drama of the family as the sieve through which the self—woman, artist, daughter—is filtered and known." —Ocean Vuong

A work of fiction about being a stranger in your own family and life.

Every family has its own mythology, but in this family none of the myths match up. Claudia's mother says she met her husband when she stopped him from jumping off a bridge. Her father says it happened when he saved her from an attempted robbery. Both parents are deaf but couldn't be more different; they can't even agree on how they met, much less who needed saving.

Into this unlikely yet somehow inevitable union, our narrator is born. She comes of age with her brother in this strange, and increasingly estranged, household split between a small village in southern Italy and New York City. Without even sign language in common – their parents have not bothered to teach them – family communications are chaotic and rife with misinterpretations, by turns hilarious and devastating. An outsider in every way, she longs for a freedom she's not even sure exists. Only books and punk rock—and a tumultuous relationship—begin to show her the way to create her own mythology, to construct her own version of the story of her life.

Kinetic, formally dazzling, and spectacularly original, this book is a funny and profound portrait of an unconventional family that makes us look anew at how language shapes our understanding of ourselves.

About the Author
---
Claudia Durastanti is a former Italian Fellow in Literature at the American Academy in Rome, and one of the founders of the Italian Literature Festival in London. She's written for Granta, Bomb, and the Los Angeles Review of Books, and is the Italian translator for Ocean Vuong and the most recent edition of The Great Gatsby, among others. This novel is her fourth book, the first to be translated into English, and the winner of the Premio Pozzale Luigi Russo, the Premio Strega Off, and a finalist for the Premio Strega. For now, she lives in Rome.

Elizabeth Harris's translations from Italian include works by Mario Rigoni Stern, Giulio Mozzi, Antonio Tabucchi, and Andrea Bajani. For her varios translations of Tabucchi, she has received an NEA Translation Fellowship, the Italian Prose in Translation Award, and the National Translation Award for prose. She lives in Wisconsin.
Praise For…
---
Praise for Strangers I Know

"Strangers I Know lies at the intersection of memoir, literary criticism, and bildungsroman,
bleeding fiction into fact in order to explore the mythologies that have shaped Durastanti's life and sensibility…symphonic." —Paris Review

"Part documentary, part fiction, part literary criticism…a coming of age story spiked with the same brand of vitriol that springs up from works like Greta Gerwig's Lady Bird and Virginia Woolf's A Room of One's Own." —The Observer

"The language in Strangers I Know, wonderfully translated by Elizabeth Harris, is precise…
For Durastanti, language has the power to perform an excavation of the self in the attempt to bring the inexpressible into understanding." —Ploughshares

"Formally innovative and emotionally complex, this novel explores themes of communication, family, and belonging with exceptional insight. Durastanti, celebrated in Italy for her intelligent voice and her hybrid perspective, speaks to all who are outside and in-between. Strangers I Know, in a bracing translation by Elizabeth Harris, is a stunning English-language debut."
—Jhumpa Lahiri

"Playful, looping, atmospheric and funny, Strangers I Know is a singular achievement, one of those rare books that expanded my understanding of what a novel can do. Claudia Durastanti is an absolutely thrilling writer. 
—Lauren Groff, author of Matrix and Fates and Furies

"Brave and deeply felt... Here the novel is not only a medium of illumination, but also a buoy cast into the dark waters of memory, imagination, and boldly embodied questions. In other words, it is my favorite kind of writing, the kind that not only tells of the world—but burrows through it, alive."
—Ocean Vuong, author of On Earth We're Briefly Gorgeous

"A fiercely inventive, lyrical journey into the heart, and into the cultures of America, Italy, and England. Durastanti's singular voice and the intensity of her honesty stayed with me. I've never read or heard anything like this book."
—Krys Lee, author of Drifting House and How I Became a North Korean

"Claudia Durastanti's writing is lyrical and sharp, underpinned with a searching gaze that turns the everyday into something darkly beautiful. Every page feels totally, absorbingly, alive."
—Sophie Mackintosh, author of The Water Cure

"The story of an upbringing full of obstacles. Like a Dickens character, Claudia goes from one mishap to the next, always keeping her curiosity of the world and her capacity to feed deep affections." —Rai Cultura

"Halfway between Natalia Ginzburg and Joan Didion, Durastanti's [Strangers I Know] is her Family Lexicon." —L'Independente