Orwell's Roses (Hardcover)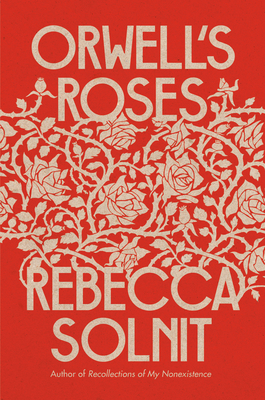 Description
---
Finalist for the National Book Critics Circle Award for Nonfiction
Finalist for the PEN/Jacqueline Bograd Weld Award for Biography

"An exhilarating romp through Orwell's life and times and also through the life and times of roses." —Margaret Atwood

"A captivating account of Orwell as gardener, lover, parent, and endlessly curious thinker." —Claire Messud, Harper's

"Nobody who reads it will ever think of Nineteen Eighty-Four in quite the same way." —Vogue

A lush exploration of politics, roses, and pleasure, and a fresh take on George Orwell as an avid gardener whose political writing was grounded by his passion for the natural world

"In the spring of 1936, a writer planted roses." So be-gins Rebecca Solnit's new book, a reflection on George Orwell's passionate gardening and the way that his involvement with plants, particularly flowers, illuminates his other commitments as a writer and antifascist, and on the intertwined politics of nature and power.

Sparked by her unexpected encounter with the roses he reportedly planted in 1936, Solnit's account of this overlooked aspect of Orwell's life journeys through his writing and his actions—from going deep into the coal mines of England, fighting in the Spanish Civil War, critiquing Stalin when much of the international left still supported him (and then critiquing that left) to his analysis of the relationship between lies and authoritarianism.

Through Solnit's celebrated ability to draw unexpected connections, readers are drawn onward from Orwell's own work as a writer and gardener to encounter photographer Tina Modotti's roses and her politics, agriculture and illusion in the USSR of his time with forcing lemons to grow in impossibly cold conditions, Orwell's slave-owning ancestors in Jamaica, Jamaica Kincaid's examination of colonialism and imperialism in the flower garden, and the brutal rose industry in Colombia that supplies the American market. The book draws to a close with a rereading of Nineteen Eighty-Four that completes Solnit's portrait of a more hopeful Orwell, as well as offering a meditation on pleasure, beauty, and joy as acts of resistance.
About the Author
---
Rebecca Solnit is the author of more than twenty books, including Recollections of My Nonexistence, A Field Guide to Getting Lost, The Faraway Nearby, A Paradise Built in Hell, River of Shadows, and Wanderlust. She is also the author of Men Explain Things to Me and many essays on feminism, activism and social change, hope, and the climate crisis. A product of the California public education system from kindergarten to graduate school, she is a regular contributor to The Guardian and other publications.
Praise For…
---
NAMED A "MUST-READ" BOOK OF 2021 BY TIME

"I loved this book, and so will many. . . [Orwell] is re-envisioned as a joyous, hopeful, life-loving, toad-appreciating, baby-cherishing dad, but especially as an avid and energetic gardener . . . an exhilarating romp through Orwell's life and times and also through the life and times of roses."
—Margaret Atwood

"[A] tribute by one fine essayist of the political left to another of an earlier generation . . . the great pleasure of reading [Solnit] is spending time with her mind, its digressions and juxtapositions, its unexpected connections . . . a captivating account of Orwell as gardener, lover, parent, and endlessly curious thinker . . . movingly, [Solnit]  takes the time to find the traces of Orwell the gardener and lover of beauty in his pollical novels, and in his insistence on the value and pleasure of things."
—Claire Messud, Harper's Magazine

"[A] wide-ranging yet disciplined sequence of essays on the importance of joy in Orwell's concept of freedom . . . Solnit seeks to show us that Orwell was [...] capable of taking great joy in small things . . . and such pleasure was intrinsic to his political vision . . . like Orwell as essayist, Solnit  deploys the full human instrument in service of her curiosity . . . She just creates a frame large enough to contain both revolutionary brilliance and unwitting reactionary associations in the same person—large enough to contain life's contradictions in a way that only the essay, that humble literary mouthpiece, can."
—The New York Times Book Review

"[A] far-reaching meditation on Orwell's life and on the cultural significance of roses . . . Most affecting is the surprising hopefulness implicit in a political writer's passion for nature: 'Orwell did not believe in permanent happiness or the politics that tried to realize it, but he did believe devoutly in moments of delight, even rapture.'"
—The New Yorker

"Expansive and thought-provoking . . . in the hands of a skilled novelist or essayist like Solnit [...] a biography becomes something else entirely. It begins in the middle. It skips the boring bits. It possesses a voice, and a point of view. It is unapologetically incomplete, and trusts the readers to go elsewhere to find out whatever else they might like to know . . . Orwell's Roses takes its place alongside other great non-biography biographies written by acclaimed authors who know how to tell a good story."
—The Washington Post 

"[A] maverick meditation on Orwell's legacy . . . an exploration of what it means to plant a rose, what roses mean in general, and what Orwell means to Solnit . . . [they] share vital common ground. His ambition to 'make political writing into an art' has been central to Solnit's project from the start."
—The New York Review of Books

"Widely read in Orwell's work and never afraid to ask awkward questions of him, Ms. Solnit seems especially exercised by the apparent contradiction between a progressive political standpoint and the pursuit of personal pleasure."
—The Wall Street Journal

"One of the pleasures of reading Orwell's Roses is its unexpected turns from one subject to the next . . . Solnit is having fun when she makes these connections—finding joy in the intellectual pursuit of writing and thinking. That she allows herself to do so in a book that is in many ways very serious too is in keeping with the very aesthetics it's engaging with. 'Clarity, precision, accuracy, honesty, and truthfulness are aesthetic values to him, and pleasures,' she writes about Orwell. But she may as well have been describing her own, or at least this book's, aesthetic values and pleasures as well."
—NPR

"[L]uminous . . . an ode to trees, gardens, and especially roses—all of which Orwell cultivated with a passion—and a contemplation of authoritarianism, resistance, pleasure, and the natural world."
—O Quarterly

"[A] brand-new piece of nonfiction from celebrated author and journalist Rebecca Solnit that reconsiders George Orwell's legacy once and for all . . . [she] examines Orwell's lifelong fascination with gardening from all possible directions . . . The task that Solnit has set for herself in this book is mighty, but she's more than up to it as a writer and a thinker; nobody who reads it will ever think of Nineteen Eighty-Four in quite the same way."
—Vogue

"Orwell's Roses is, from its beautiful cover to its impassioned coda, one of [Solnit's] very best . . . [A] multifaceted tribute . . . at once a biographical study of this champion of freedom, an impressive work of cultural and literary criticism and a testament to Solnit's far-ranging curiosity . . . [She] leaves no row unhoed as she simultaneously explores the roots of Orwell's prolific literary output and the fecund history of roses . . . [A] triumph, a delight of digressions."
—Los Angeles Times 

"George Orwell's books have been read by millions and hailed as essential texts for combating autocracy. It's not easy to find new angles on such a prominent figure, but Rebecca Solnit has done just that. That she succeeds in impressive fashion will surprise no one who's familiar with the work of the polymathic San Franciscan…Readers who appreciate beauty or wisdom — anyone who enjoys books, basically — will find plenty to like in these pages…Though Orwell's every word had been scrutinized by the time Solnit began this project, her stellar book shows us that an original thinker can make any subject fresh."
—San Francisco Chronicle

"One does not immediately associate author George Orwell with horticulture, but we're not all as insightful and perceptive as Rebecca Solnit . . . Although the elegance and urgency of her prose counts for much of the pleasure of Orwell's Roses, it is the way in which Solnit connects disparate elements of her subjects that distinguishes the book . . . With precise control and boundless curiosity, Solnit has produced a work of biography and nature writing that makes readers see the enduring and the ephemeral in entirely new ways, free from cliché and obfuscation."
—Sierra Magazine

"Rebecca Solnit, never one to be predictable, returns with Orwell's Roses, which draws together the great British essayist's lesser-known savoring of nature with his legacy of antiauthoritarianism . . . An engrossing appreciation of how beauty requires ugliness."
—Chicago Tribune

"The best writer about realistic hope, it seems to me, at the moment, is Rebecca Solnit . . . [Orwell's Roses is] a beautiful, beautiful book."
—Bill McKibben, author of Falter

"Uncommonly wonderful . . . Like any Rebecca Solnit book, this too is a landmass of layered aboutness beneath the surface story—a book stratified with art and politics, beauty and ecology, mortality and what gives our lives meaning."
—The Marginalian 

"[Solnit is] the most compelling living writer on ecology, place and hope. Her work draws attention—both hers and the reader's—away from the relentlessness of technology and its attendant busyness, and towards the rhythms of human and nonhuman interactions and lives . . . Solnit's newest book [is a] balm."
—Electric Literature 

"A reflection on what gardening may have meant to Orwell, but also what it means to gardeners everywhere; beauty for today, hope for tomorrow, and a desire to create something for those that come after – all of which finds an echo in the best of politics . . . Solnit restores something often missing not only from Orwell but from the political tradition of which he is part."
—Observer (London) 

"[A] charmingly fresh biography." 
—USA Today

"Rebecca Solnit's new book, Orwell's Roses, is less a biography of the great novelist's political theories and journalistic peregrinations than a pure celebration of the rich natural world found within Orwell's writing . . . In the spare, elegant prose we've learned to expect from Solnit, she details the myriad ways Orwell managed to find beauty in even the ugliest of places. Likewise, she pushes readers to treasure the small moments of grace to be found in the natural world, even now, in the face of climate catastrophes and global unrest."
—Los Angeles Review of Books 

"Elegant . . . muses on Orwell with all Rebecca Solnit's luminous intelligence and trademark optimism. If 'Orwellian' has become synonymous with darkness and oppression, she opens up his life affirming love of gardening, of wild nature and life's physical pleasure, his antidote to the grim puritanism of ideologues"
—Polly Toynbee

"Part biography, part memoir, a historical and cultural analysis and a work of literary criticism, Solnit's book is a love letter in prose to those roses, to Orwell and to the enduring relevance of his ethical sensibility. It is efflorescent, a study that seeds  and blooms, propagates thoughts, and tends to historical associations."
—New Statesman 

"[Solnit] has a knack for making surprising and poignant connections between seemingly disparate things . . . [Orwell's Roses is] another expansive look at politics, power, beauty, and the stories we tell ourselves."
—LitHub

"Just when you think are you sick of hearing about George Orwell, Solnit reveals a surprising side. Orwell was a passionate gardener, and especially enjoyed flowers. Solnit uses fresh insight to illuminate an absorbing meditation on Orwell's work as a writer and antifascist."
—The Millions

"There's no way to predict whether history someday will accord Rebecca Solnit's work the same respect George Orwell's has earned. Regardless, readers of the early 21st century should be grateful for her clear-eyed, articulate presence in our midst."
—Shelf Awareness

"[An] avidly researched, richly elucidating book of biographical revelations and evocative discoveries . . . Orwell will always be relied on for his astute understanding of the threat of totalitarianism and its malignant lies; Solnit also ensures that we'll value Orwell's profound understanding of how love, pleasure, and awe for nature can be powerful forms of resistance."
—Booklist (starred review)

"[A] brilliant survey . . . Fans of Marta MacDowell's biographies of gardening writers will appreciate this lyrical exploration."
—Publishers Weekly (starred review)

"A kaleidoscopic view of a man we thought we knew, by a woman who keeps surprising us with her dazzling mind.  Solnit has written an exquisitely layered book soaring in its reach, subversive in its scope, and joyous in its pleasure to read.  Her exploration into how and why cultivating beauty matters, alongside fighting injustices as Orwell's garden supported his fierce critique of fascism, reminds us of the singular fact: life is both flower and thorn. This profound and graceful book not only redefines what is 'Orwellian,' it reimagines how we might live a life of greater intention by opening our hearts to what is beautiful, brave, and of Earth."
—Terry Tempest Williams, author of Erosion

"Solnit shows that Orwell's politics were grounded in a vision of the good life that he conducted with gusto through some of the worst decades of the twentieth century.  This was partly his nature and partly his political project; along with his famous lessons about the misuse of political language and power, he wanted people to understand that the life of a democratic socialist could and should include joy, as an already existing example of what might happen if we made a better world.  A beautiful and important book."
—Kim Stanley Robinson, author of The Ministry for the Future
 
"What a book! It is a privilege for the rest of us to listen in as our finest contemporary essayist engages in deep conversation across time with perhaps the greatest essayist in the history of the language. This volume is humane, challenging--and a reminder that we all must, and can, make a life on this beautiful planet, even as we work to improve it."
—Bill McKibben, author of Falter:  Has the Human Game Begun to Play Itself Out?

"There is nothing more political than a garden, and Rebecca Solnit brings Orwell's life and writing vividly alive through his quiet determination to love the surface of the earth. Orwell's Roses shows how intimately aesthetics is intertwined with ethics, and in doing so, Solnit has given us a truly beautiful book."
—Alex Christofi, author of Dostoevsky in Love

"We all know what Orwell hated, but Solnit pays attention to what he loved. Orwell's Roses is an ingeniously fresh and unpredictable take on his life and times, and the values he held dear."
—Dorian Lynskey, author of The Ministry of Truth: A Biography of George Orwell's 1984

"This book unfolds like the petals of a rose—the political rose, the personal rose—and enacts its subject in the ethics of its beauty and the grace of its resistance." 
—Jay Griffiths, author of Why Rebel

"This book is brilliant because it is true, and because it rescues Orwell from a kind of dourness and seriousness, and gives him back his humanity and yes, his Englishness." 
—James Rebanks, author of The Shepherd's Life and English Pastoral

"This is an enchanting book, as powerful in its arguments as it is enjoyable to read. From a surprising close-up of George Orwell planting three Woolworth roses, Solnit pans to a bracing new vista of the man and his fierce political aesthetic, taking in the injustices of the rose industry and lying Soviet science as she goes. Brilliant."
—Lisa Appignanesi, author of Mad, Bad, and Sad