The Moonshiner Popcorn Sutton (Hardcover)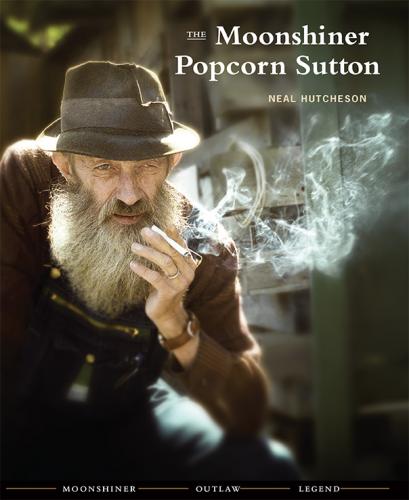 $45.00
Email or call for price.
Description
---
A comprehensive volume of photos, essays, and interviews documenting the true story of a modern folk hero. Marvin 'Popcorn' Sutton was raised in a Southern Appalachian community steeped in tradition. He learned to make moonshine at an early age, like his father and grandfather before him, and continued to pursue the perfection of the craft throughout his life. At the same time, he honed a natural talent for performance and came to fill not only the role but the appearance of the master moonshiners he had known as a child. Ultimately appearing in documentaries, television shows, and heritage events, he brought the traditional craft of a secret brotherhood into the light. Yet, he never compromised and continued to make and distribute outlaw liquor in increasing quantities, forcing his story to its inevitable end. Now remembered as a folk hero who would literally live free or die, The Moonshiner Popcorn Sutton captures the true story of the man behind the myth in a celebration of craft, heritage, and irrepressible character.
About the Author
---
NEAL HUTCHESON is an award-winning filmmaker with a large body of work documenting heritage in transition. The recipient of three Emmys for cultural documentaries, a North Carolina Artist Fellowship, the Brown-Hudson Folklore Award, and other honors, the Moonshiner Popcorn Sutton is Hutcheson's first published work. The book documents the life and legacy of Marvin 'Popcorn' Sutton, who was not only a close friend but also the subject of Hutcheson's documentary The Last One (2009).
Praise For…
---
"Those interested in Appalachian history and culture would do well to spend time with this book. Popcorn's wit, jokes and indelible way of speaking offers readers a better understanding of how the people of the region survived when outside forces came to exploit, and when neighbors, friends and family began to leave."
— Timothy Lydon, Pittsburgh Post-Gazette

"The definitive biography of a famous Appalachian moonshiner ... its beautiful layouts and glossy paper will [also] make it work as a coffee table book and a keepsake."
— Foreword Reviews

"Hutcheson deftly navigates the cultural concerns surrounding Sutton in his 240-page work, which seems to be a cross between a beautifully designed coffee table book and a biography backdropped by scads of context and local color."
— Cory Vaillancourt, Smoky Mountain News

"In Popcorn, Hutcheson met the perfect subject, a man who chose to cling to the past, to preserve (in words and liquid) what he believed was worth preserving, and to answer to no greater law than his own simple conscience. Popcorn Sutton's legacy is not in worldly goods but in his unique character that will, through Hutcheson's careful, caring collation, live on."
— Bookreporter

"Neal Hutcheson, a documentary filmmaker from Raleigh, may have spent more time with the late Popcorn Sutton than anyone outside the legendary moonshiner's inner circle. This warts-and-all portrait of Popcorn, a Haywood County native who became nationally famous, is imbued with Sutton's presence via lengthy interviews, stunning photographs of the man and his 'shine operations, and poignant tributes from Hutcheson and others. At last, this book conveys the depth of a character who outshone his cartoonish reputation and took no small part in making his own myths."
—Jon Elliston, WNC Magazine

"Quite unlike anything else you're likely to experience ... Hutcheson successfully shines a much needed light onto a greatly misunderstood and misanthropic Moonshiner."
—Cody Sexton, A Thin Slice of Anxiety

"Hutcheson's book offers readers a glimpse into Popcorn's wit, jokes and indelible way of speaking, which offers a better understanding of how the people of the region survived."
—Shelby Harrell, The Mountaineer

"The Moonshiner Popcorn Sutton is an inherently fascinating read and certain to be an immediately welcome and enduringly popular addition to personal reading lists of anyone with an interest in American moonshine history and traditions, as well as community, college, and university library Contemporary American Biography collections."
— Midwest Book Review

"From these pages we come to know a man who would spend his last dime on a china set for his wife, but who would just as quickly pull a jackknife from his pocket and slit your throat if you crossed him. There is the humor and there is the horror. The good walks hand in hand with the bad. Hutcheson does a fine job of capturing this duality. And while it would've been easy to mythologize a character like Popcorn, the author does not pander. This book paints Sutton as a man fully human and flawed, a good friend and a bad father, a foul-mouthed romantic with a knack for copper and corn. Thanks to that honesty, we not only get one man's story but an insight into something greater. In his life, we see the lives of others. In his words, we hear what came before."
— David Joy, author of Where All Light Tends to Go and The Weight of This World